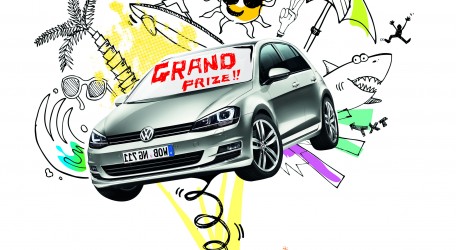 Vodafone customers have the chance to participate in an engaging trivia competition this Summer, with the chance to win a fantastic array of daily prizes and a grand prize in September. The Vodafone SMS and Win competition will give customers the chance to win €100 daily from Monday to Saturday and €1000 every Sunday with the final  grand prize of a VW Golf to be won by one lucky winner when the competition comes to an end.  The competition  will run from Monday 22nd July to Sunday 22nd September 2013.
"We know that our customers love the chance to win prizes and this is precisely why we are running our Vodafone SMS and WIN competition," said Daniela Bagnaschi, the Consumer Prepaid Marketing Manager at Vodafone Malta. "We decided to test our customers' knowledge in return for points that count towards winning one or more of 63 great prizes."
To participate in the Vodafone SMS and WIN competition, customers need to send an SMS free of charge to 50915790 with the text WIN. This will be followed by the first question. Each SMS reply is charged at €0.47 independent of other special tariffs. A maximum of 20 questions will be sent daily to all those applying for the competition and the competition is open to all Vodafone customers who are 18 years of age and over.
Points will be assigned for both right and wrong answers with the possibility of gaining extra points by answering bonus questions correctly. Get even more points by visiting Vodafone Malta's stand at the Beer Festival where the final grand prize will be on display!
For more information on Vodafone's SMS and WIN competition, customers can call 247 from any Vodafone line or 9999 9247 from any other line. Alternatively they can opt to visit Vodafone's website on www.vodafone.com.mt, Vodafone's Facebook Page or Vodafone's stand at the Beer Festival. Terms and conditions apply.