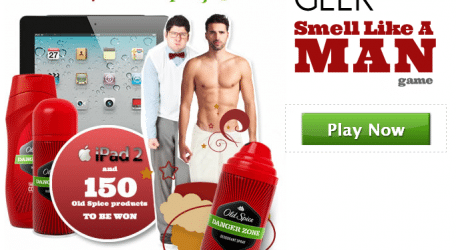 To celebrate the recent launch of a new range of grooming products for men, Old Spice is running a Facebook competition giving participants the chance to win an iPad 2 and an array of Old Spice products.
"The game is proving to be a big hit," said John Montanaro at VJ Salomone Marketing, "with hundreds of Old Spice fans using their skills to bag the iPad."
The game is simple; players need to spray geeks with an Old Spice deodorant can to turn them into real men, and points are awarded for each geek sprayed.  On Saturday 2nd June the top 5 players will play against each other in a head to head final for the grand prize. Apart from the iPad 2, Old Spice Danger Zone Deodorant and Shower Gel products will be handed out to those with high scores. Website offertispecjali.com is hosting the game at https://www.facebook.com/offertispecjali/app_364071503632563.
Old Spice is all about authenticity, performance and confidence. The Old Spice grooming range includes body sprays available in three spell-binding fragrances – Danger Zone, White Water and Kilimanjaro. These give out a light and fresh fragrance that works to prevent unpleasant odours before they appear. The shower gels leave you fresh but not dry and the aftershave comes in two fragrances – White Water and Noir. The 2-in-1 hair and body wash, available in a cooling fragrance, has a dual-action formula designed to spruce up the body from head to toe, and all from just one bottle. The award-winning Old Spice campaign "Smell like a man, man" has attracted millions of views across viral channels. Commercials can be viewed at http://www.youtube.com/user/OldSpice.