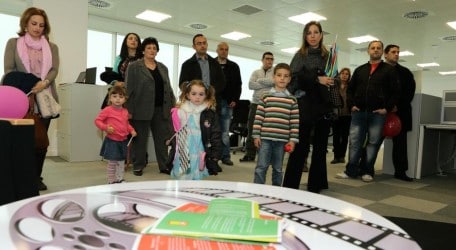 Vodafone Malta's new offices at SkyParks Business Centre welcomed Vodafone employees, their families and friends  were they had the opportunity to roam around Vodafone's new Head Office and learn about the prospects, career development and benefits made available to Vodafone employees.
"This open day was organised in an attempt to show the people who are closest to our employees the way we do things here at Vodafone," said Antoinette Camilleri, Property Manager at Vodafone Malta. "We wanted our family and friends to enjoy our new environment and understand the way we are working in. With our new offices, having an open plan and the idea of hot desking there is no boundaries between our teams and the modern centre provides a friendly environment that is comfortable to employees and conducive to better corporate communication and higher productivity."
Vodafone employees, their families and friends were welcomed in the SkyParks Lobby by the [email protected] Team and by Vodafone's Property Manager, Antoinette Camilleri and Property Senior Executive William Borg.
Over 100 visitors who attended the open day at Vodafone's new offices had the opportunity to tour the premises and were provided with an insider look at the open plan environment and the brand new settings, chill out and lounge areas, the canteen, the meeting rooms and the state of the art multimedia facilities and handsets on display in the reception area. Besides giving out merchandise to all those who attended, Vodafone also gave the children the opportunity to spend their day playing at the YoYo childcare centre within the building. Visitors then headed to the nearby restaurants where they enjoyed a nice Sunday lunch at discounted prices. The Vodafone Open Day was organised by the [email protected] team members together with the Property team. Images of the event can be downloaded and tagged on Vodafone's Facebook page.