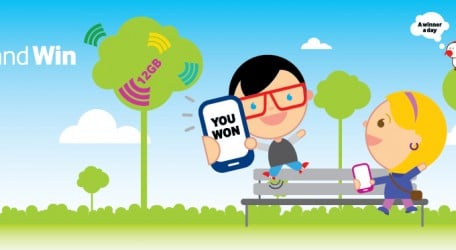 This February, lucky Vodafone customers, both on pre-paid and on contract, are getting a prize every single day. Vodafone is giving everyone the same opportunity to win and it is giving away €500 in credit and 12GB internet to pre-paid customers when topping up with €10 or more and a Samsung Galaxy S3 16GB handset to customers on contract.
"We are always trying to give our customers the best possible offers on the market," said Sandro Pisani, Head of Marketing at Vodafone Malta. "Our latest promotion helps customers have added value and the latest technology in hand and this is yet another reason to become and remain a Vodafone customer."
Prepaid customers who top up with €10 or more will get into the chance of being the lucky winner of €500 in SMS and calls to local Vodafone number and 12GB of internet, on the day they actually top up. This is a prize that can be enjoyed for up to a whole year. The promotion runs until the 19th of February with some of the winners who already claimed their prize saying that this was a great, unique initiative.
On the other hand, Vodafone customers who are on contract also have the chance to win big. Two lucky winners per day can lay their hands on a Samsung Galaxy S3. If a pay monthly customer does not have any outstanding balance for the month, he or she will be automatically eligible for this Free Giveaway, which will keep going until the 23rd February.
Prizes are drawn during weekdays and winners are already being announced on Vodafone's Facebook Page. For further information on these promotions, customers can drop in at any of Vodafone's retail outlets in Malta and Gozo or call 247 for free from a Vodafone line or 9999 9247 from any other line or visit www.vodafone.com.mt/paymonthlygiveaway or www.vodafone.com.mt/topupandwin.