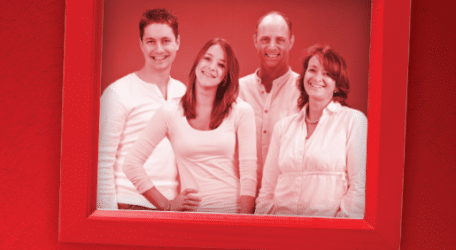 Vodafone Malta has just launched a new innovative family plan.  This is another first from Vodafone whereby customers can get Vodafone RED for family members by joining a family plan. Customers subscribed to the Vodafone RED plans can add family members up to a maximum of 3 additional members per household.  The additional members get all the benefits of the RED plan at a 30% discount on the monthly access fee. Benefits of the new RED Family Plan include a subsidy on a device or a discount on the access fee for the head member of the family, whilst additional members can get the Vodafone Smart Android from as little as €59.  The whole family will be on a 2 year agreement.
"Our RED plans come with worry free calls, SMS and ample Internet on your mobile allowance, thus making communication much more simple for you and the rest of your family  ," said Georgiana Agius, Marketing Senior Executive at Vodafone Malta. "We wanted to extend this concept to families nationwide and therefore came up with this new plan. Thanks to the discounts with RED Family, everyone can now be on Vodafone RED!"
Vodafone Red is a complete service package that brings something new to the Maltese market. With RED, Vodafone introduced a worry free concept to all their pay monthly customers with plans ranging from €35 to €99.99.  Apart from the allowances for local usage, customers can also benefit from Vodafone Traveller whilst abroad in EU Countries including Turkey and Switzerland.
For more information on the RED plans visit any Vodafone store across Malta and Gozo, call 247 for free from a Vodafone line, 99999247 from any other line or log onto www.vodafone.com.mt/red.