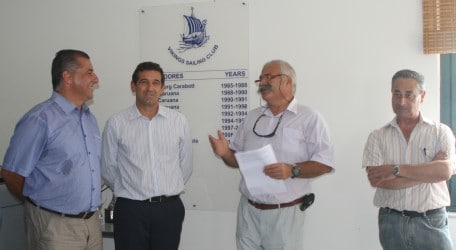 Pictured above: Vikings' Commodore Richard Gabriele welcoming the guests, including (from left) MP Robert Cutajar, Parliamentary Secretary Chris Agius and Floriana Mayor  Nigel Holland
Not-for-profit organisation Vikings Sailing Club kicked-off its annual Sailing Marathon 2014 amidst a highly-charged opening ceremony that set in motion the non-stop 50 hour-long sailing event from its premises at HayWharf in Floriana.
Sailing enthusiasts joined the opening ceremony, which also featured key speeches from the Parliamentary Secretary for Research, Innovation, Youth and Sport Chris Agius and Opposition Spokesperson for Youth and Sport Robert Cutajar. Commodore Richard Gabriele from Vikings Sailing Club also spoke and reiterated the 30 years of commitment by the Club to cultivate the love of sailing in Malta, especially among young people. The Vikings Sailing Club in fact is celebrating 30years of existence in 2014.
In line with its community-centric mission, Vikings Sailing Club also offered the public the opportunity to try out dinghy sailing with qualified instructors against a donation. Participants utilised the chance to experience the thrill of dinghy sailing while contributing to funds that are utilised to run training programmes and courses all year round.
"The passion and affection Maltese have for our seas is deeply engrained in our national fabric. Since its inception in 1984 as a club of enthusiasts, Vikings Sailing Club has come a long way in harnessing this same passion and extending it to people of all ages, particularly our youth," said Comm. Gabriele.
With more than 200 member families, the Vikings Sailing Club serves as a gathering point for hundreds of Maltese who come together for the array of events the Club organises on a regular basis.
Popular amongst the community are young children's training courses, open race days, BBQ gatherings, country-themed cuisine nights, dinghy regattas, and others. Some courses, such as first aid training, are provided free of charge by the Club.
"This spirit of community that Vikings Sailing Club has so carefully forged amongst its members, relatives and friends is the sole reason we have become a second home to many in this country. During peak summer months, the Vikings Sailing Club becomes a bustling centre of activities one after another. We are determined to remain dedicated to carrying forward the energy of our members and give back to the community," said Comm. Gabriele.
Realising its community-operated orientation, the Vikings Sailing Club works closely with its members as well as with various organisations to nurture the love of sailing. It regularly works with Kunsill Malti għall-Isport (KMS) to organise training sessions for young kids.