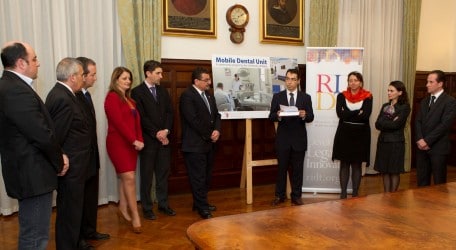 The Faculty of Dental Surgery, University of Malta, will be setting up a mobile dental clinic to reach out to the Maltese in their respective community and provide oral health advice and dental care.
A first in Malta, the project forms part of University's health outreach programme and is supported by the University's Reseach Innovation and Development Trust (RIDT). The Good Causes Fund, Cherubino Ltd, Suratek Equipment and Barthet Enterprises are the initial sponsors however the University is also discussing with other potential sponsors to complete the project.
The mobile dental clinic will be visiting localities across Malta and Gozo. The aim is to reach out to all sectors of society, including the underprivileged communities, the institutionalised, all schools including special needs schools, orphanages, the homebound elderly and all those who would otherwise depend on a third party to be able to access dental care.
The clinic will be equipped with modern facilities and it will be manned by staff members of the Faculty of Dental Surgery together with final year dental students.
The University Rector Prof Juanito Camilleri praised the Faculty of Dental Surgery for its commitment to the community and its oral health needs. He said: "This project will allow the University of Malta to be more active in our society. While providing dental students with the opportunity to gain experience, the project will also serve to collect information, and data for field-studies intended to identify specific needs in the community and provide more appropriate care and service."
"Many University researchers are working on projects intended to improve our quality of life. Research projects need funds to develop and to yield beneficial results. Through RIDT, the University is now encouraging both public and private corporations as well as individuals to help and support our research projects."
The Dean of the Faculty of Dental Surgery Prof Nikolai Attard said: "The Faculty of Dental Surgery, being one of the main stakeholders in the area of oral health, is embarking on this project for various reasons. We want to bring change in our nation by educating our children and by instituting preventive programs that will ultimately result in improved oral health in our future generations. The team will also use the Mobile Unit to identify and research the oral health gap that exists among people coming different social backgrounds.
Our aim is to reduce barriers to dental care that exist within the Maltese community and reach out to those people who need care most. Patients requiring further dental treatment shall be referred to the appropriate clinics within the University Teaching Clinic. This initiative is also a valuable educational resource for dental students who will be exposed to the different fabric of our society."
The University's RIDT was set up to bolster investment in research and innovation on a national level. For the University of Malta to fulfil its commitment to future research, a much greater support is needed from many stakeholders. One can donate and get to know more about RIDT by visiting www.ridt.org.mt