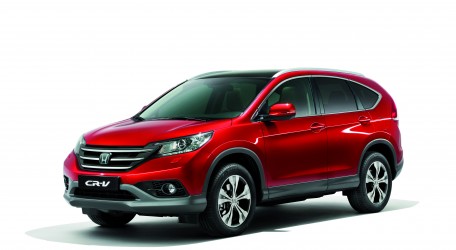 Over five million CR-Vs have been sold across the world since its introduction in 1995 and the new, fourth generation builds on the success of its predecessors with even greater quality, practicality and refinement. The model that helped define the compact-SUV sector has been comprehensively redesigned for the European market.
Originally launched at the 1995 Tokyo Motor Show, the Honda CR-V was one of the first of the modern generation of 'soft roaders'. It became a benchmark for this fast growing segment with its practical size and excellent utility. The CR-V was designed primarily for on-road use, but with SUV styling and the quality customers expect from a Honda product. Sales began in Europe in 1997 and the CR-V quickly became a firm favourite with buyers. Production of European specification CR-Vs started at Honda's plant in Swindon, United Kingdom in 2000.
For the first time in Europe, the new CR-V will be offered with a choice of both two- and four-wheel drive, while improvements to both the petrol and diesel engines have resulted in a significant reduction in CO2 emissions.
While the fourth generation model is instantly recognisable as a member of the CR-V family, it still manages to assert its own identity. The new model takes on a more aggressive and aerodynamic stance with deeper sculpting of the bodylines and a bolder nose section. The front bumper's smooth, flowing lines are joined by a horizontal three-bar grille and deep-set headlights. The lower front bumper is designed to convey SUV capability with a generous approach angle. The signature vertical rear brake lights, which have featured on every generation of CR-V, remain but the fourth generation introduces a more three-dimensional style. The CR-V's large wheels and bold wheel arches further emphasise its dynamic presence and capability.
The CR-V has been designed as a global car but the European model features a number of exterior refinements developed specifically for this market. A revised front bumper emphasises its dynamic appeal, while front LED daytime running lights and rear LED lights are other stylish additions.
Confident, efficient and functional, the fourth generation CR-V builds on the success of its predecessors. "The CR-V is one of the key pillars of Honda's global portfolio," said Gasan Zammit's CEO Stefan Deguara. " From the first turn of the wheel, you can understand how smooth this car is."
The new Honda CR-V is now available at the GasanZammit showroom in Mriehel and it can be yours for only €28,800!