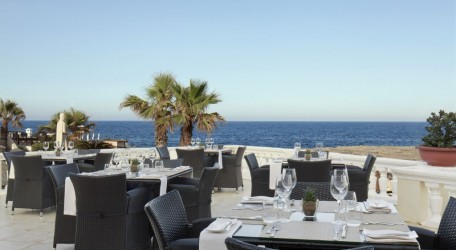 Starwood Preferred Guest® (SPG®), the award-winning loyalty programme from Starwood Hotels & Resorts Worldwide, Inc.  announces its new "Triple Benefits" programme for members. For three months, starting from 1 July, 2013, SPG members will enjoy three exclusive benefits whenever they drink or dine at one of 650 participating restaurants and bars in Starwood hotels and resorts around the globe.
Each participating venue will offer three Food and Beverage (F&B) benefits. The Westin Dragonara Resort has joined the SPG Triple benefit campaign and will be offering three unique offers at Quadro Restaurant, including:
A 10% discount, during this three-month promotion.
Extra 100 Starpoints® per person. When dining with three or more guests
A complimentary glass of house wine with your meal any day of the week.
"In our region in the last year, expenditure by SPG members dining in Starwood's restaurants and bars when 'out of stay' has doubled," said Steven Taylor, Vice President, Marketing, Starwood Hotels & Resorts, Europe, Africa & Middle East. "As a result we have launched Triple Benefits, SPG's first global food and beverage marketing campaign, designed to give our guests even more reasons to enjoy Starwood's F&B options when they are on the road or at home in their local destination. We believe these benefits will make SPG even more relevant to our members and encourage them to discover the unique and compelling experiences available in our restaurants and bars worldwide."
Quadro Restaurant offers diners a unique dining experience.  Located just by the water's edge this fine dining outlet ensures a memorable culinary experience under the stars! Visit www.quadrorestaurantmalta.com for full details about Quadro Restaurant
Year-Round SPG Member Benefits
SPG is the only loyalty programme in the travel industry offering comprehensive food and beverage related benefits to its members worldwide. Anyone can register to join the SPG program, which offers free membership, to enjoy Triple Benefits and more. SPG gives members all-year-round savings of up to 30% at more than 1000 restaurants and bars in more than 400 Starwood hotels around the world. SPG members will also enjoy themed monthly promotions at participating restaurants and bars, as well as earn Starpoints when dining at these venues. Through the ground-breaking SPG Moments programme, Starpoints can be transformed into extraordinary lifestyle events, including insider access to red carpet movie premieres, live concerts by top artists, championship sporting events, and unforgettable culinary experiences with Michelin-starred chefs.
Following last year's successful launch of the SPG Restaurants and Bars English website, SPGrestaurantsandbars.com, SPG also recently unveiled additional versions in Spanish, French, German, Portuguese and Italian languages, where SPG members get access to exclusive discounts and VIP culinary experiences.
For more information about Triple Benefits, please visit www.spg.com/triplebenefits for the list of participating F&B venues.