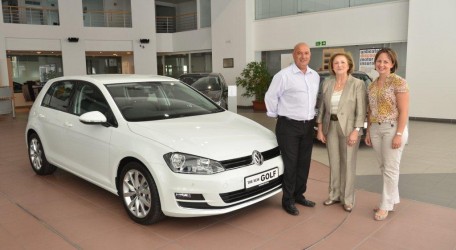 Vodafone Malta is proud to announce that Nadette Vella Briffa from Hamrun is the winner of the Grand Prize of its SMS&WIN Trivia Competition; VW Golf Vehicle 1.2 TSI 5 door, 2013, white Trendline model from Continental Cars Ltd, having scored the most points throughout the competition.
The competition lasted two months between July 22nd and September 22nd 2013 with 63 prizes having been awarded to the lucky winners after correctly answering a skill question. Prizes consisted of €100 daily, drawn at random between all the participants of the day, €1000 every Sunday, for those who obtained the most points during the week, and a VW Golf Trendline Model Vehicle sponsored by Continental Cars Ltd. as the final Grand Prize drawn on Sunday the 22nd of September.
The winner was awarded at Continental Cars Ltd. in Msida on Friday the 27th September by Daniela Bagnaschi, Marketing Manager of Vodafone, and Sandro Cauchi, General Manager of Continental Cars.