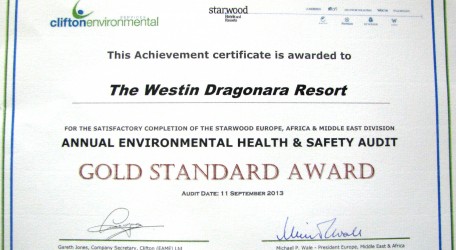 During the recent Health and Safety Audit, conducted by Clifton Environmental Services, The Westin Dragonara, was awarded a Gold Standard Award for the second consecutive year. The achievement of this award is a result of the efforts being made by the Resort's team to maintain high standards in Hygiene, Safety and Security. Besides the Management of Health and Safety, the criteria for this award also include Fire and Emergency Safety, Engineering Safety, Food Safety Management and Practices, Security, Environmental Protection, Leisure Facilities as well as Childcare and the Kids Club facility.
While also focusing on sustainability the Westin Dragonara Resort strives in offering guests and associates a safe and healthy environment and has recently implemented a number of green initiatives such as the `Meeting Impact Report` and the `Carbon Offset Program` thus ensuring that all the required standards in Environmental Health and Safety are met.
Clifton Environmental services is an approved training centre for the Chartered Institute of Environmental Health, the Royal Society of Health and the Royal Institute of Public Health & Hygiene. It provides specialist environmental health & safety support to a wide range of international organisations and industries. The company focuses on collaborative working with their Clients to help them sustain and improve their business performance.
More information about The Westin Dragonara Resort and its green initiatives can be found on www.westinmalta.com