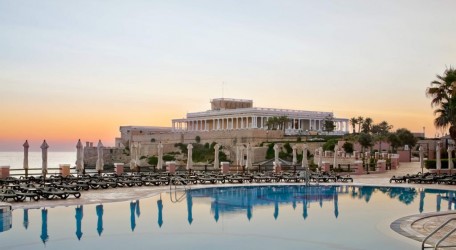 The Westin Dragonara Resort is proud to launch The Terrace Grill dining option during the summer months. The Terrace Grill is situated on level two of the resort and enjoys al fresco dining with beautiful views of the bay view pool deck and the Mediterranean Sea.
At the Terrace Grill one can enjoy daily themed buffet delicacies, which are grilled to perfection to delight one's taste buds. The Terrace grill features numerous live cooking stations which enable guest to have their food freshly grilled, just the way they like it!
The menu varies on a daily basis, ranging from Maltese cuisine on Monday, Middle Eastern delicacies on Tuesday, Italian selections on Wednesday and Asian dishes on Thursday. Friday nights are traditional Ranch Style BBQ's whilst a fish extravaganza every Saturday night. Sunday's are dedicated to Wellness with healthier options on the buffet. Prices for the nights are at €29.95 per person Monday to Thursday and Sunday. The Friday night buffet is at €30.95 and Saturday nights are at €31.95 per person. Children dine at half price at The Westin Dragonara Resort
More information about the daily menus can be found on the website: www.terracerestaurantmalta.com or by calling 00356 21381000.
The Terrace Grill is open daily for dinner from 19.00 till 22.00 and free parking is offered to all patrons.