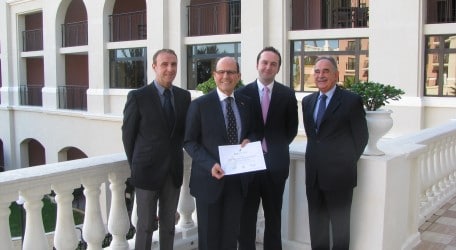 Pictured above: Conrad Cassar, Chief Engineer,  Michael Camilleri Kamsky, General Manager,  Jonathan Borg, Director of Operations, Oliver Degiorgio, Engineering Consultant 
During the Green Committee meeting, held on 21st November 2013 within the hospitality industry, the Westin Dragonara Resort has been confirmed as an Eco Certified hotel by the Malta Tourism Authority for a further two years. The certificate was presented to the hotel by the Minister for Tourism, Hon Karmenu Vella during the Eco seminar on the 3rd December.
The ECO certification is the national scheme for ensuring the environmental, socioeconomic, and cultural sustainability of hotels on the Maltese Islands and has been recognised by the Global Sustainable Tourism Council as fully reflecting the GSTC criteria.  The scheme was launched by the Malta Tourism Authority in 2002 and today represents over 16% of hotel accommodation covering 5-star, 4-star and 3-star categories. Having been updated in 2008 and later in June 2012 the scheme was revised to be in line with the GSTC criteria.
To receive the Eco certification, an audit verified The Westin Dragonara`s compliance with a set of criteria designed to improve the hotel industries' environmental performance. These criteria are related to sustainable managements systems, waste management, purchasing, control of chemicals, energy, water, air quality, noise, building and green areas, local culture and national surroundings as well as communication with guests.
The Westin Dragonara Resort is proud in obtaining the certificate for another two years. General Manager Michael Camilleri Kamsky said: "At The Westin Dragonara we are working actively to reduce the carbon footprint in all our business activities. Such an award is a certificate of our team's efforts towards an improved sustainability. The certificate is aligned with our business strategy whilst also encouraging our associates to strive towards improving the eco-friendly measures implemented by the hotel".