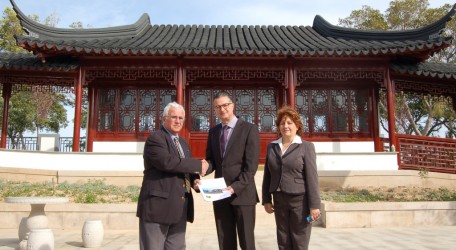 Pictured above: Santa Lucia Mayor Frederick Cutajar (left) receiving the GreenPak certificate from Ing Mario Schembri. Also present the Executive Secretary of St Lucia Local Council Caroline Silvio
With each passing month, more and more Local Councils are terminating their contracts with GRTU's subsidiary and entrusting GreenPak to provide their communities with better waste collection services. Santa Venera and Santa Lucia Local Councils are the latest localities to join GreenPak Coop Society, Malta's leading national waste recovery scheme. Now, GreenPak has reached 65% coverage of the MalteseIslands.
During the past year, the rate of waste recovered from both these localities was less than 30%. To improve this low performance, these localities sought to join many others localities and take advantage of the expertise and professionalism of GreenPak which has been delivering uninterrupted service since 2006.  Working closely with the Local Council, GreenPak introduces amenities to help communities achieve higher environmental performance in an economically viable manner. This entails a combination of methods, including the provision of recycling banks, kerbside collections and direct collections from commercial outlets.
GreenPak will bring to these localities new services such as door-to-door glass collections every first Friday of the month and the 'free recycling bag' programme, as green bags are distributed to each household in a continuous effort to increase recycling at home. The residents of St. Lucia and St. Venera will also benefit from GreenPak's educational door-to-door programmes and will automatically be participating in '3R Award Scheme' in which residents are awarded for their recycling efforts.
Ing Mario Schembri, GreenPak Coop CEO said: "The addition of these two new localities means that another 3,600 households will be contributing towards improving our environment. These residents now have the golden opportunity to lend a hand in reaching the waste recovery targets set out by Malta. GreenPak's extensive experience will serve to make it convenient and practical for all residents and the business community of Santa Venera and Santa Lucia to separate waste."
GreenPak is a MEPA authorised scheme and is a founding member of EXPRA, the international alliance promoting producer responsibility. GreenPak is also part of  PROEurope, an umbrella organisation of 35 national producer responsibility systems engaged in the selective collection and recycling of packaging waste.
For further inquires regarding the new collection schemes, bring-in-sites and other information of interest to the residents of St Venera and St Lucia, one can call their respective Local Council, or GreenPak Malta on tel: 2166 0233 or email [email protected].