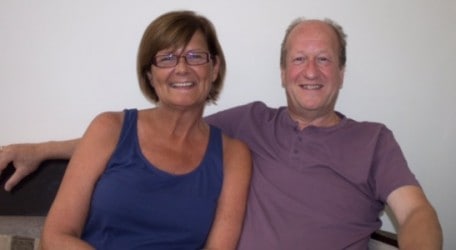 2017 marks The Palace, Sliema 10-year anniversary, so why not celebrate this milestone with the first guests who booked a stay at the 5-star hotel? Alyson and John Dee (pictured above) were the first guests of The Palace luxury hotel in August 2007 and since then, the hotel welcomed thousands of tourists throughout the years. Earlier this summer, the couple were once more in Malta and they opted to stay at The Palace once more.
Alison and John remembered what happened 10 years ago when the couple initially had a different accommodation booked and found themselves in The Palace accidentally. But since then, they believe they discovered a true gem in the social hub of Sliema, now their favourite spot in Malta.
"We remember the first impression of the hotel like it happened yesterday. Our stay was truly amazing particularly thanks to the staff that faced and dealt with all kinds of situation incredibly well", said Alison. She added that since they were the first people to reserve a booking at the new hotel, they were treated "like we were royals".
When asked whether they remember any detail that made their stay so memorable, Alison nodded her head in enthusiasm. "Bed mattress! I've never tried a more comfortable bed in life! Imagine, I was impressed to the point of checking the brand to buy the same one for my house", Alison replied enthusiastically.
John explained that every year they look forward to coming to Malta on a yearly basis mostly because they are in love with the island. "We have travelled a lot but Malta is the only place that we can completely disconnect from our routine", said John.
Alison recalls their second visit at The Palace. "When we stayed at The Palace the second time, everyone remembered us! We were shocked" added Alison.
The couple had positive comments about one of the staff members at the hotel, Mr Mario Messina who is the Front Office House Manager at The Palace. They both describe him as "an impeccable professional and amazing person", but apart from that as a very good Maltese friend for the foreign couple.
Alison and John emphasised that one of the main reasons they remained loyal guests of The Palace was because of hotel's unchanging standards of highest class and its central location that made the luxury hotel so exceptional.
The Manager of The Palace, Kevin Callus thanked Alison and John for their loyalty and for choosing The Palace as their home in Malta for the past decade. "Celebrating 10 years of great business at The Palace is really about celebrating our loyal guests, clients, followers and the local community for their support of our hotel, so we're using this occasion to thank everyone for their continuous support and clientelism", said Mr Callus.