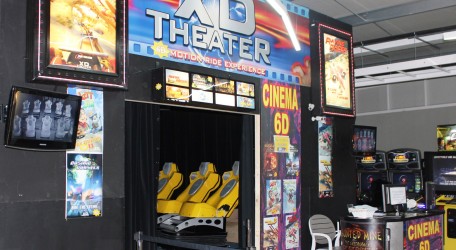 For the first time in Malta, a 6D cinema has opened on Level 4 within the Delta 4 entertainment centre in Bay Street, St Julian's.
The Canadian-designed 6D cinema offers a unique journey that will literally take your breath away. Get ready for an extraordinary experience; let your imagination flow and prepare your senses for the ultimate 6D effects that emulate a captivating journey that transcends time, space and imagination.
The 10 individual seats with a unique, electro-magnetic, modern design can develop a maximum of 2Gs and 400 movements/second. These, combined with the 3D spectacles, enable you to enjoy the 3D cinema widescreen effects, will push your adrenalin level to new highs. This is done in full safety since each seat incorporates a safety belt.
Chair movement in 4 dimensions is perfectly co-ordinated with the sound and 3D images, transforming the movie into a unique simulation. The 5.1 sound system recreates in high fidelity the sound effects, and the powerful fans shoot waves of air that make this 5-6 minute movie an entirely unforgettable experience as a whole.
Travel at dazzling speeds into the 'Haunted Mine' or feel the adrenalin that snow can offer you on steep slopes only in 'Snow Ride'. There are 11 movies that you can enjoy including jet racing, underwater experiences, cartoons and cosmic races.
"Our new 6D cinema is like the Rolls Royce of 6D cinemas. We are confident that we can offer the best experience to our dear customers" a spokesman for Delta 4 said. "And now everyone can visit the cinema in Delta 4 at Bay Street, which is open seven days a week from 10 a.m. to 10 p.m."
Apart from the new cinema, Delta 4 now has fantastic party offers, children's parties starting from only €3.25 per child. Children can also be challenged in the Laser Labyrinth or play inside the soft play area space maze.
Following the success of Bay Street's Delta 4 entertainment centre, another major attraction will be installed there in the coming weeks.
For more information on the 6D cinema visit www.baystreet.com.mt/delta4 and for the latest news on the Bay Street visit the Bay Street's Facebook page, www.facebook.com/baystreetmalta. Or phone 21384421