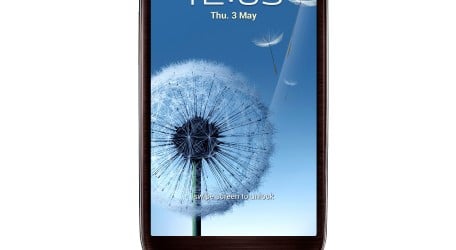 Vodafone are the only operator on the island to offer the high end Samsung Galaxy S III in bronze exclusive to Vodafone. The Galaxy S III has a great design, an amazing display and offers superb performance which makes it one of the best phones for 2012. It is also a favourite inMaltacommanding a large share of the high end mobile phone sales.
With 4.8 inches of high definition display, giving the user true and perfect colour and an ultrafast response time, the Samsung Galaxy S III sees additional software features and a sleek design from the previous Samsung Galaxy S II. The minimal organic design of the Galaxy S III is reflected in its smooth and gentle curves, while its human-centric nature provides a comfortable experience with enhanced usability. The S III has an 8 megapixel camera similair to that of the S II and can take photos and record videos in Full HD. The battery gives 790 hours on stand by and 11 hours talk time and Smart Stay, an ability to track the user's eyes and turn off whenever the person is not looking at it, will help to minimise battery consumption. The Samsung Galaxy S III can be wirelessly charged using a special charging pad that utilises magnetic resonance to produce a magnetic field through which electricity could be transferred.
The S III boasts a quad-core processor and employs an intelligent personal assistant – S Voice, enabling the user to verbally control different functions such as playing a song, setting the alarm, or activating driving mode. The Samsung Galaxy S III also includes certain smart features which facilitate improved human interactivity including Direct Call, the handset's ability to recognise when a user wants to talk to somebody instead of messaging them, if they bring the phone to their head; Social Tag, a function that identifies and tags people in a photo and shares photos with them; and Pop Up Play, which allows a video and other applications to occupy the screen at the same time.
"Vodafone are always trying to get the most innovative gadgets on the island," said Lara Selvagi, Terminals Executive at Vodafone Malta. "The popularity of this state-of-the-art phone boosts the confidence for Vodafone's investment in introducing a new and exclusive colour to the Samsung Galaxy S III range in Malta."
The smartphone's price tag is that of €649 or at a reduced cost of €499 on the Smartphone 35 plan, €399 on Smartphone 55, €299 on Smartphone 75 and for free on Smartphone 95. More information is available by calling 247 for free from a Vodafone line, or 9999 9247 from any other line.  Alternatively one may visit a Vodafone outlet or partner, or call customer service.