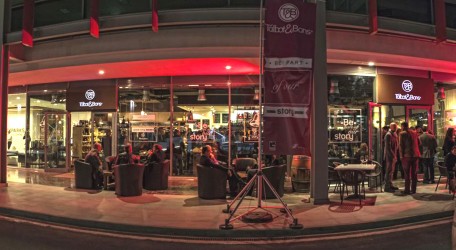 Over a thousand guests were invited recently to the official opening of the landmark deli-café Talbot & Bons at SkyParks, Malta International Airport.
The first set of guests, the entire staff of Vodafone, whose head offices are now at SkyParks, were among the first, sharing more than the Aperitivo for which Talbot & Bons want to make their outlet a destination.
The second wave of guests included the head office staff of Air Malta and all the other tenants who have moved into SkyParks. The evening was reserved for the 'big' event, with hundreds of people making their way to MIA to celebrate this auspicious event.
The owners of Talbot & Bons, Amy Talbot and her husband Alan Mercieca Bons, greeted the guests on arrival, including the principals of all their main suppliers. The forecourt in front of Talbot & Bons had a classic Fiat 500 on which a selection of choice imported confectionery represented by Talbot & Bons were displayed. Towering above the car was the giant Anglepoise light that is a distinguishing feature of the establishment.
"Having been open now for a few months, we are convinced that there is definitely room within Malta's tourism offering for the type of concept Talbot & Bons has to offer," Mr Mercieca Bons said. "We are serving the best coffee that is available locally, and food that is freshly prepared and made solely with natural ingredients with no artificial colouring or additives."
Ms Talbot adds: "The concept is that we want our guests to be part of our story. We look around our establishment and tempt our guests to be distracted by the stories that surround them, including the food and wine. We are offering them more than excellent service and this is being appreciated."
Talbot & Bons is open from 7 a.m. to 1 a.m. from Monday to Sunday. It can be booked for private functions or morning meetings. For more information call 9925 8258/2123 4834 or visit them on Facebook, www.facebook.com/talbotbons.