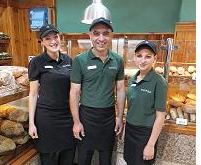 Value, value and value is the theme of the 2014 Summer Campaign which was launched in Maypole's 11 outlets around Malta last month and now is in full swing. Maypole wants to ensure clients get the best value for money through a host of exclusive offers.
Supported by some two dozen brands, the offers are based around lower pricing, free giveaways and special combo packs, to name a few.
"These are not sales gimmicks but honest, high value offers, with the full support of our suppliers, which means Maypole clients will be getting more for their money this summer," Sebastian Debono, Director of Maypole, said.
All clients visiting Maypole to benefit from these offers will notice that sales staff in the outlets, all have the new 2014 Maypole uniform. This consists of smart black trousers and green polo shirt emblazoned with the Maypole logo, black apron and cap.
Maypole's outlets are in Attard, Bugibba, Fgura, Hamrun, Iklin, Mellieha, San Gwann, Qormi, Swatar, Zabbar and Zurrieq with a new shop soon opening in Naxxar.