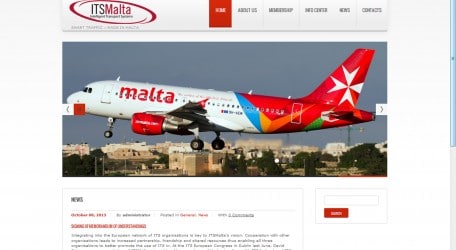 ITS (Intelligent Transport Systems) Malta officially unveiled its new board and a brand new website, www.itsmalta.eu, during a cocktail party for stakeholders in Ta' Xbiex earlier this month. The revived board and website enable the organisation to be part of the global ITS community.
ITSMalta now truly provides networking opportunities to most transport and logistics stakeholders and, via ConnectBaltica, can act as a bridge from the south to the north of Europe.
According to board member Alex Borg: "The foundations are in place. Now it is up to us to take it to the next level." Letters of support for ITSMalta have been received from other ITS organisations around the world.
"ITS UK will strongly support ITSMalta, especially since we are both islands and face very similar challenges," Sharon Kindleysides from ITS UK said.
The event, sponsored by the Institute of Healthy Happiness, B&T Signaal and HandsOn Systems, was attended by Austrian Ambassador Petra Schneebauer and was supported by the Austrian community.
Another board member, Dr Christoph Demuth of ConnectBaltica, said: "Creating an ITS cluster enables the domestic ICT industry to grow locally and abroad by using Malta as a grand ITS showroom."
"Intelligent Transport Systems are important to make traffic flow," board member David Seisun of HandsOn Systems pointed out.
"Not only is Malta an Island, but Scandinavia also from a market point of view is an island as well," Oyvind Nordvik of B&T Signaal said.
ITSMalta thanked Alexander Hauser for providing the venue and the Austrian food.
ITS working groups from the academic, public and private stakeholders will be set up to form a platform of Intelligent Transport Systems.
The annual ITSMalta convention will be held on 22 February, 2014, as part of the TransLog Malta Awards and the Transport Practitioners Forum.