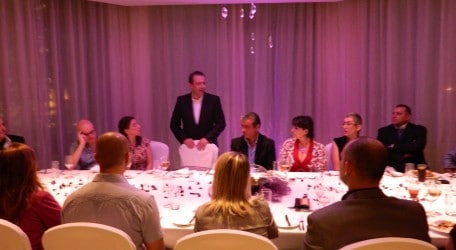 Pictured above: General Manager Franco Vella explaining the new concept to members of the press
Turn a night out in Malta into a free night abroad
Starwood Preferred Guest® is the loyalty programme of Starwood Hotels & Resorts Worldwide, the mother company of Le Méridien. Whereas before the SPG programme was only rewarding his members for accommodation charges, it is now extending this scheme to the restaurants of participating properties such as Le Méridien St Julians Hotel& Spa in Balluta Bay. The hotel goes one step further, not only by giving its loyal customers the possibility to earn Starpoints® in all of its bars and restaurants, but also by granting points to the third-party outlets making commerce in its premises. This is the first local loyalty scheme in terms of dining that also adds an international dimension to its redemption possibilities.
Frequent travelers worldwide often recognize Starwood Preferred Guest for having the hotel industry's best redemption program. Small wonder: Starwood offer remarkable access to an amazing hotel portfolio, faster points accumulation and zero blackouts on their Free Night Awards. When staying at a participating hotel – such as Le Méridien St Julians Hotel& Spa in Malta- an SPG Member will earn two base Starpoints for eligible rates and eligible charges for each US dollar spent. Loyal customers' status can evolve from SPG Preferred to SPG Gold or SPG Platinum, depending on how regularly they stay and how much they spend at participating properties around the globe. As the SPG members get their status upgraded, they also see their privileges and rewards increasing drastically such as earning 3 Starpoints per US dollar spent (instead of the 2 Starpoints awarded at entry level), guaranteed free room upgrades, late check-out, great amenities and more. The currency of this loyalty programme, called Starpoints, is redeemable for free night awards at over 1,100 Starwood hotels and resorts in nearly 100 countries, award flights, room upgrades and a host of marvelous travel and entertainment privileges.
Food For Thought
Earn Starpoints® at Le Méridien Bars & Restaurants
Whereas before the SPG program was only awarding its members for overnight stays and accommodation charges, members can now earn Starpoints for their meal and for every eligible euro on dining purchases, starting from a minimal spent of €10 per bill. This is great news for local patrons who often dine at participating hotels without systematically staying overnight. The Management of Le Méridien St Julians Hotel & Spa saw this as the perfect opportunity to reward the loyal customers of their restaurants and hopped on board of this global initiative.
"We are very excited about this great enhancement of our loyalty programme", states Franco Vella, General Manager at Le Méridien St Julians Hotel & Spa. "We now have the perfect solution to reward the local patrons who regularly dine with us and we strongly recommend all our clients to subscribe to SPG. Indeed, the subscription is free and local customers who often book a table with us – for example for our popular Sunday Lunch at Scirocco Restaurant- could now be rewarded with free hotel nights in the participating hotel of their choice anywhere around the globe! All they need to do is spent a minimum of €10 to start earning points that could eventually lead to their next overseas get-away. This is a first in Malta and we don't want this to go unnoticed. We invite all our clients to speak to their waiter and start earning Starpoints immediately."
Additionally, the hotel's management decided to further extend the recommended span of this loyalty scheme by including some of its third-party outlets located on level 0 of the property and its renowned outsourced MyoKa Spa on level 2. This means that SPG members, when presenting their card at 202 Jewelers, Jigami Hairdressing, House of Beauty perfumery or MyoKa Lotus Spa will also be able to earn additional points on their purchases, hair cut or spa treatments.
So Le Méridien St Julian's is now going one step further in rewarding their local clientèle. When members are ready to redeem, they can use Starpoints for Free Night Awards and Award Flights – both without blackout dates. Or they can redeem them for room upgrades, merchandise and Instant Awards℠, ranging from spa treatments to culinary creations and everything in between.  Members can also redeem Starpoints for exclusive food and wine festivals, meet world-renowned chefs and so much more. With SPG Moments℠, they receive access like no other. Those who are regularly enjoying Le Méridien's premises are invited to visit SPG.com for additional information and subscriptions.
Get a 20% discount at KuDéTa Bar & Lounge
Le Méridien StJuliansHotel& Spa has also enrolled their Lobby outlet – KuDéTa Bar & Lounge – to the official discounted SPG bars & restaurants. Which means that SPG members enjoying the KuDéTa Bar & Lounge facilities will now benefit from a 20% discount on their food bill. And as an SPG member, the food-enthusiast traveler will be able to dig in to members-only exclusives at more than 600 restaurants across the globe. Local customers can learn more about this at spg restaurants and bars.com.
"It is a very innovative concept", proudly explains Stuart Caruana, F&B Manager. "Become an SPG member and find out what it means to have more choices, more flexibility and more ways to get the rewards you want, when you want them. We are delighted to now be able to wow our loyal customers the way they truly deserve it."