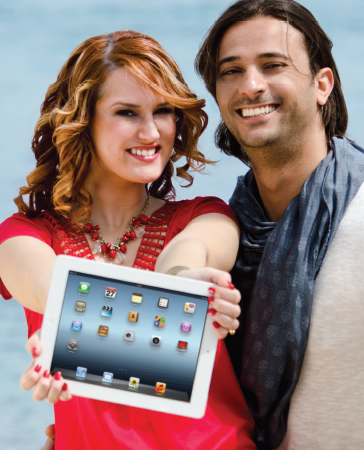 In line with its efforts to provide customers with the newest mobile devices on the global market, Vodafone has introduced the new iPad at all its stores across Malta and Gozo. Customers who subscribe to Vodafone's Smartphone plans, or are up for renewal, can either choose one of the smartphones that are offered for free on the plan or take up the new iPad for free or at a discount.
With iOS 5.1, the latest update to the world's most advanced mobile operating system, the new iPad has a number of new features and enhancements including a redesigned camera app, the ability to delete photos from Photo Stream, support for dictation in several languages and Personal Hotspot.  iOS 5.1 also works seamlessly with iCloud, a breakthrough set of free cloud services including iTunes in the Cloud, Photo Stream and Documents in the Cloud, that work seamlessly with other devices.
The new Retina display delivers four times the number of pixels of the iPad 2, making web pages, text, images and video look extremely sharp and realistic. The powerful new A5X chip with quad-core graphics was specifically designed by Apple to deliver a fast, responsive user experience providing superb balance between performance and power efficiency so users can enjoy all the benefits of striking new display while experiencing a smooth multi-touch interface, immersive gameplay, unbelievable visual depth and all-day battery life that iPad is now delivering.
The 5 megapixel camera features advanced optics for taking stunning pictures and recording full HD video. Backside illumination allows you to take great photos in low light conditions and a new video image stabilization feature removes the shakes typically seen when filming with a hand held design. Images can be edited, enhanced and easily shared with friends and family using the built-in Photos app on iPad.
Speaking about the new iPad Alexandre Froment-Curtil, Head of Marketing at Vodafone Malta said: "We are absolutely delighted to be in a position to offer our customers the opportunity to enjoy Vodafone's plans and fastest network with the amazing performance of the new Apple iPad. Once you pick up the new iPad there's no putting it down. It has 44 per cent increased colour saturation which displays colours that are unbelievably richer, deeper and more vivid. It sure makes surfing the web, checking email, watching movies and reading books such an amazing experience. The personal hotspot can be used to share files on Vodafone's network connection delivering download and upload speeds of up to 21.6Mbps nationwide and 42Mbps in key areas.  Web pages load incredibly quickly and email with large attachments can be received and sent easily."
The Smartphone Plan 35 offers a €200 discount on the new iPad while Smartphone Plan 55 offers a €300 discount.  A €450 discount comes with Smartphone Plan 75 when taken up instead of the smartphone and the Smartphone Plan 95 offers the new iPad for free if taken instead of a smartphone.
The new iPad discounts are being offered if the customer connects the iPad through one of the New Liberty Data Plans. The plans are further discounted by €5 in monthly access fees for those customers who are on the new Smartphone Plans. For more information visit a Vodafone store, call 247 for free from a Vodafone line or 9999 9247 from any other line or log onto www.vodafone.com.mt.