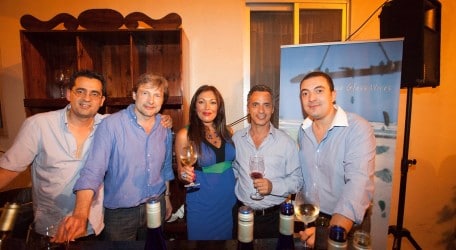 Pictured above: Del Borgo directors Ingrid Dalli and Alan Mercieca Bons (first from right) with (from left) Marco Vella, Paul Mintoff and Pierre Pellegrini Petiti of Attard & Co
The compelling brand story of SeaGlass, the wines from California, was the inspiration for the seventh anniversary summer party of Del Borgo, the premier wine bar in Vittoriosa.
In keeping with the wine theme, dress code was blue, with SeaGlass accessories. This year the event was supported by SeaGlass, AF Sign Studio, Attard & Co, David Vella Trading Co. Ltd and Pure Concepts.
Del Borgo directors Alan Mercieca Bons and Ingrid Dalli constantly come up with innovative concepts to celebrate the anniversary of the opening of their establishment. Last year they had a Venetian theme and the fifth anniversary theme was 'Fiori e Colori'.
This year the Santa Barbara and Monterey areas of California are where SeaGlass wines hail from. Nature is both the winemaker's muse and its architect. Just as the ocean shapes and tumbles broken shards into precious sea glass, it influences their vineyards – and wines.
In the cool, fog-shrouded vineyards in this part of California grapes ripen slowly to the music of the ocean, developing complex flavours that beautifully express the nuances of this unique terroir. SeaGlass's talented winemaker then refines and polishes each vintage to create Sauvignon Blanc and Riesling that are fresh and extraordinary, apart from Chardonnay and Pinot Noir, with a fresh, light-bodied profile that allows the grape's varietal character to shine through.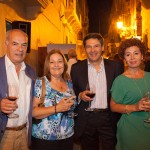 Patrons and guests overflowed from the cool subterranean ambiance of Del Borgo to the neighbouring alleyways for a well enjoyed party. "Although SeaGlass as an ornament is more the product of the ocean than the Mediterranean, being close to the sea gives us plenty in common to share with California," Ms Dalli observed.
"I am pleased that, once again, Del Borgo is the subject of conversation and that familiar faces were with us for this annual celebration knowing that we have lived up to their expectations."
The SeaGlass Sauvignon Blanc has invigorating scents of lemon, lime, grapefruit, and freshly cut grass, while clean, crisp notes of gooseberries and tangerines awaken the palate. With a lively, slightly tart finish, the Sauvignon Blanc captures the free feeling of endless summer.
Riesling grapes thrive in cooler climates that allow the grapes to ripen slowly and steadily, producing wines that range from bone dry to delectably sweet. Riesling's high acidity is lusciously balanced by its fragrant floral aromas and sweet fruit flavours. SeaGlass Riesling is a perfect expression of Monterey County, with its cool ocean air, minimal rainfall and long growing season.
The SeaGlass Chardonnay is full of tropical fruit aromas, which lead to creamy pineapple and zesty citrus fruit flavours on the palate, followed by a refreshing, lively finish. The clean, lightly oaked style is elegant and lean.
The Pinot Noir captures the best of Santa Barbara's unique terroir, with a fresh, light-bodied profile that allows the grape's varietal character to shine through. An inviting, delicate perfume emerges from the glass, while bright red cherry and strawberry flavours lightly dance on the palate. It is beautifully balanced with vibrant acidity.
These wines were complemented by a beautifully presented selection of cold cuts, cheeses and speciality foods from around Malta and Gozo for which Del Borgo has gained a name – courtesy of the establishment's dedicated kitchen brigade. Finger food was also served throughout the evening.
Patrons had the opportunity to walk through the establishment, enjoying the mouthwatering display of imported food products, fine wines and sweets in the Enoteca. Alan and Ingrid also cut an anniversary cake to celebrate the occasion.
Del Borgo is open seven days a week from 5 p.m., with last orders taken at 1 a.m. For more information visit www.delborgomalta.com or call 2180-3710 /9928-0000.
–