Italian confectioner and chocolatier Gaetano Mignano visited catering and food preparation establishments in Malta with the aim of providing a fresh and innovative perspective on how professional chocolate products can be taken to the next level. The visit was a joint collaboration between ICAM Cioccolatieri, for whom Chef Mignano is their international ambassador, and Goodies Ltd of Qormi, as their official distributors in Malta.
During his stay, Chef Patissier Mignano, who in 2008 won the first place in the Gelato World Cup – Sigep World Championship, visited Santa Lucia, Cateressence, Golden Harvest, and Chocolat d'Or. His visit was well received as executive chefs and their kitchen brigades tapped into the extensive knowledge and expertise of the chef who has won 16 awards during his career so far.
"When designing new creations, the starting point should always be choosing the finest quality ingredients. This is why I always recommend ICAM Linea Professionale products. Besides carrying the Made in Italy quality pledge, ICAM professional line products embody important values that reflect my own identity, namely high quality, passion, tradition, good ethics and a striving for good taste," explained Chef Patissier Mignano.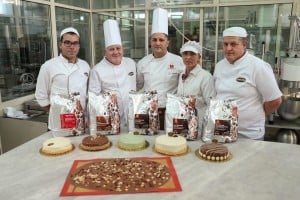 Born and bred in the Naples, Italy, and finding inspiration from the great confectionery-making heritage in his family, Chef Patissier Mignano studied the culinary arts under the guidance of Italian Master Confectioner Gennaro Volpe. The passion and experience Mignano gained over the years led to many accolades both in Italy and internationally, with the crowning moment coming in 2008 when he was declared the world champion at the Gelato World Cup.
In 2012, he decided to take over the traditional family business setting himself the goal of promoting what he defines as "Chocolate Culture" both within his team and towards the public, renewing the entire series of products and starting over again from pralines, chocolate bars, mono portion and cakes that are part traditional and part more innovative and with a sophisticated taste. This change is of course based on the careful selection of all ingredients and the use of superior quality ICAM chocolates, namely Grand Cru, Single Origin and blends of cocoa selections from the best plantations.
Rachel Mercieca, sales manager at Goodies Ltd said: "Having a chocolatier of Mignano's calibre visiting some of Malta's most popular confectionery manufacturers and sharing his expertise with them is a great opportunity. It is going to be quite interesting and exciting to see this interaction and exchange of ideas and how these will be leading to new and exciting confectionary products to the delight of customers in Malta."