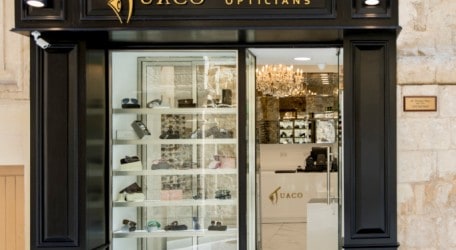 After months of painstaking renovation, Tuaco Opticians's signature store on Melita Street in Valletta is now welcoming customers again to its world of designer eyewear and bespoke frames. The store's new front features a chiselled façade that merges seamlessly with the surroundings of Valletta's UNESCO-listed heritage, while white marble and practical mirrors adorn the inside.
"The entire refurbishment was based on Tuaco's guiding principle of not just selling spectacles but dressing people's faces. This is why our new retail space is designed to offer customers the opportunity to see themselves in a new light, in an environment that is easy to navigate, and an experience that can be recalled as not rushed at all," said Adrienne Despott, manager of Tuaco Opticians, who also oversaw the different aspects of the restoration project keeping always in mind the customer's personalised experience.
To mark the re-opening of the refurbished outlet, Tuaco launched two special offers for April. A 20% discount is being offered on all new frames purchased during this month. For those who choose the technologically advanced AirOptix contact lenses providing clear vision and constant comfort, they can decide whether to get a free 90 ml bottle of Optifree contact lens solution with every 6 pack, or a free contact lens with every 3 pack.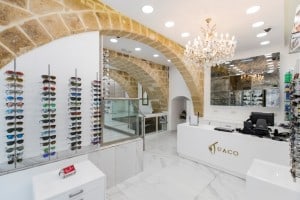 Tuaco Opticians has been providing eyecare in the community for over 60 years, offering high quality frames, groundbreaking lenses technologies to protect eyes from damaging UV rays and also from Blue light originating from IT screens, sunglasses, and contact lenses all backed by a quality customer service and guarantees.
Customers can also benefit from eye testing by qualified optometrists and ophthalmologists. Eye experts recommend that persons, irrespective of whether they use any form of lenses or not, should test their eyes every two years to ensure good and correct eyesight and to detect any difficulties, even if the person is not aware of them, before they turn into a problem .
Tuaco Opticians also has presence on St John Street, its second store in Valletta.
The renovated store can be visited between 9am and 7pm Mondays to Fridays and between 9am and 12noon on Saturdays. For making an eye check appointment or for further information, one can call Tuaco Opticians on tel: 2122 1848, email [email protected] or visit http://www.TUACO.com/