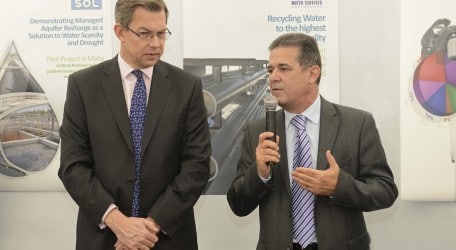 Malta's bustling capital was host to a water conservation awareness activity organised around World Water Day 2014 by the Ministry for Energy & the Conservation of Water and the HSBC Water Programme.
Mr Joseph Montebello, Chief of Staff at the Ministry for Energy and the Conservation of Water said "The Catch the Drop campaign is very important to help educate children to make sustainable use of water, since water is a very scarce natural resource in the Maltese Islands."
Under a multimedia tent set up in the heart of Republic Street in Valletta, letters of commitment from the HSBC Water Programme were presented to students participating in the Catch the Drop Campaign. Other engaging activities on the day included informative talks on water conservation and a presentation by HSBC Malta employees who recently visited HSBC Water project sites in connection with WaterAid in Ghana.
"The Catch the Drop Campaign launched the School Outreach Programme and Community Outreach Programme at the beginning of the scholastic year 2013-2014 as part of the HSBC Water Programme. This initiative invited students and schools to forward proposals for water conservation projects. Twenty project proposals are to be implemented by the students with HSBC's funding and support," said HSBC Manager Corporate Sustainability Glenn Bugeja.
"'The HSBC Water Programme in Malta is achieving two vital objectives: raising awareness about water conservation among students across Malta and Gozo and involving students in water projects to encourage their development as pro-active ambassadors for water conservation and environmental sustainability."
Project proposals range from practical considerations such as installing duel flush systems in schools and push button taps, to innovative systems for catching rainwater runoff on school premises and education multimedia content including a short movie about water conservation.
The Catch the Drop Campaign is a three-year nation-wide strategic initiative supported by HSBC Group to raise awareness about water conservation and stimulate positive change towards sustainable fresh water use in Malta and Gozo. The campaign aims to reach every single student in Malta, that is, over 50,000 students coming from 155 schools, all the 67 Local Councils in Malta and Gozo, as well as the Maltese public at large.