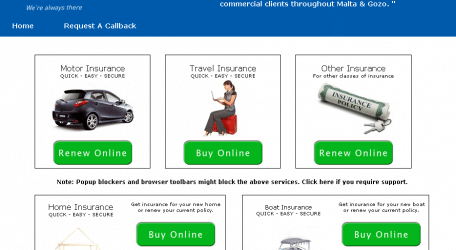 Since in this day and age we have little time to enjoy the things that really matter in life, GasanMamo clients can now opt to buy or renew their insurance policies online from the comfort of their own home, making life just that little bit easier. Anyone visiting the GasanMamo portal www.gasanmamo.com, can now purchase or renew their home,   car and boat insurance online.
"As part of our commitment to place customers' needs on the top of our list, we have further enhanced our clickGMI portal with new functionality," said Julian J. Mamo, Director at GasanMamo Insurance. "Flexibility in how clients choose to interact with us is key in today's hectic lifestyle. We all expect a straight forward, safe and efficient process. This system will therefore give existing and potential clients ease and convenience in using the internet to meet their insurance requirements with the added benefit of security."
The Click GMI portal will enable clients to log onto a safe online system and purchase or renew insurance policies up to a specific sum insured. Online home insurance policies, providing cover for buildings, contents and and boat insurance policies covering theft, stress of weather, collisions and accidents among other benefits can now be purchased and renewed in real time. Renewals of motor insurance and purchasing of travel insurance may also be affected at the customers' convenience thanks to GasanMamo's clickGMI, a very simple, user friendly and intuitive portal. Customers also have the option to increase sums insured and upgrade cover. Once transactions are completed, the system will automatically send the relevant policy schedule, receipt and certificate electronically via e-mail to the address provided at the application process.
For purchasing and renewing your insurance online visit the GasanMamo website on www.gasanmamo.com.