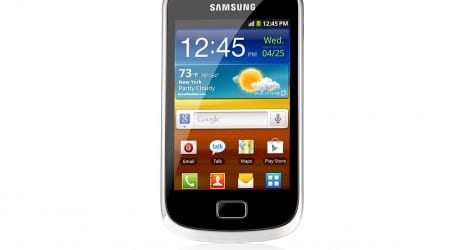 If you are looking for a user-friendly smartphone with all the latest features but with minimum complications than look no further than the Samsung Galaxy Mini 2. With a swipe feature, a larger screen plus large fonts used for the various colourful icons, we found this phone to be ideal for those who want the latest technology at their fingertips but do not want to have to read a detailed manual to get started.
Its smaller size and light weight will make it attractive to those who do not want to opt for a larger, heavier phone, and as a first time Android purchase it is ideal. It fits into the palm of your hand easily, and its plastic casing means it can withstand being dropped. The keypad is probably rather small so this might not be the phone for people with large fingers.
The menu lists the different features in alphabetical order, making them easy to find at a glance and a swipe, which means you do not have to search all over the  phone to find and use your favourite feature, nor do you need to drag it onto your display screen if you prefer to leave that uncluttered.
Apart from the usual feature for apps (called 'AppSelect') there is a separate download for 'Samsung Apps'. As well as having a 'Maps' function, there is also the 'Navigation' button which allows you to find more specific locations. Wifi and other network connections are also easy to activate, while the 'Social Hub' function allows you to view all your message notifications and feeds from your social media in one easy-to-locate place.
The inclusion of NFC (near field communication), means you can scan tags to make payments. You can also exchange information such as websites, apps and videos by holding your phone next to another NFC-enabled Android phone, touching the beam function and sharing.
Finally, one of the best things about this phone is its long battery life, which is great for anyone who uses their phone constantly.
The Samsung Galaxy Mini 2 was made available for review by Vodafone and can be purchased from any Vodafone store for the price of  €199. It comes free if you purchase the Smart phone 35 plan.