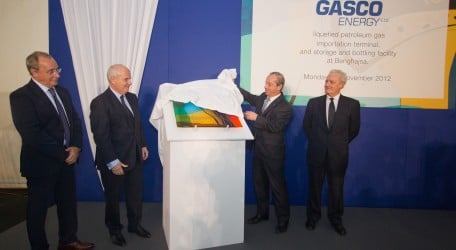 Pictured above: Prime Minister Dr Gonzi unveiling the plaque with (from left) Mr Capelluto, Mr Farrugia and Dr Dal Lago
Gasco Energy's state of the art sea importation terminal, storage and bottling LPG facility was inaugurated by the Prime Minister Lawrence Gonzi this week. Situated at Bengħisa, the combined €23 million investment is a joint venture between Liquigas Italia S.p.A and Multigas Limited.
This modern facility, built in just four years since the signing of the relevant agreements between Gasco Energy and Enemalta, has now become one of the key energy assets for Malta. It has more than doubled the storage capacity – it now stands at 4,800 metric tonnes, up from the previous 2,300 mt. It includes six new LPG storage tanks – each being 42 metres long with a diameter of 7.5metres – that are covered with sand to increase the safety of the installation.
The project comprises a pipeline from the sea importation terminal to the storage tanks, an automatic cylinder filling plant, a road tanker filling point to deliver bulk LPG to clients, and an administration building.  The facility is also equipped with the latest technology for fire detection and fire fighting.
Prime Minister Lawrence Gonzi welcomed this investment as an important addition to the country's energy infrastructure.  Dr Gonzi said that through this new plant,Malta was now not only increasing its storage capacity of LPG but was able to tap into a cleaner source of energy.  In his speech, Dr Gonzi said that new this plant ensured the closure of the long-standing Qajjenza plant. Like other infrastructural projects underway, Gasco Energy's project created employment and economic activity.
"Apart from guaranteeing a reliable, safe and adequate LPG supply for consumers, operators and distributors for future decades, this facility represents an enhancement of Malta's autonomy and independence where energy resources are concerned," said Gasco Energy's Chief Executive Officer Roberto Capelluto.
As the first private company for many years to provide services in the LPG gas sector in Malta, Gasco Energy will bring many benefits both for the domestic consumer and for enterprises. This will lead to a better understanding of this clean and efficient energy, not only in its traditional applications, such as cooking, heating, and hot water, but also for new areas such as autogas, air-conditioning and co generation (the production of electricity using LPG as a fuel).
Mr Capelluto said: "Gasco Energy is applying international LPG industry standards and "best practice" in Malta. This country is now at the forefront in Europe as far as the LPG sector is concerned."
Liquigas Italia President Dr Paolo Dal Lago said that Gasco Energy is today a significant LPG terminal in the Mediterranean. The implementation of this project is an excellent example of technical collaboration between joint venture partners, using – when necessary – the expertise within SHV Group, the European leader in the LPG industry.
Each shareholding partner is contributing particular strengths and areas of expertise to this enterprise. Liquigas Italia has delivered a very professional and rigorous approach, also through SHV which is the group holding company and a world leader in the sector. Multigas Ltd, the Maltese partner in Gasco Energy, has drawn on many decades of experience, commitment and a high standard of operation in the industrial gas market in Malta.
Dr Dal Lago noted that one of the key aspects for the fine realisation of this enterprise is the relationship of mutual respect, active cooperation and shared objectives among Gasco Energy's Italian and Maltese associates. "As a result of this collaboration, today we can see that all the commitments made ​​are being met successfully."
Gasco Energy Chairman Louis A. Farrugia said: "Our new facility truly marks a turning point in the provision of energy in Malta, and therefore it is one of historical significance. The facility embodies the joint venture's commitment to 'do things properly' – in terms of planning, standards and quality investment."
"This private sector investment could never have happened unless the conditions were suitable for bank and private capital funding. Naturally this has to be achieved within a stable and fair regulatory framework," said Mr Farrugia.
While bringing our project to fruition on budget and ahead of schedule, we have re-used an abandoned quarry – previously an eyesore – to house this modern plant which respects all the stringent Seveso II safety directives mandated by the European Union."
The facility, in fact, does not impact on the skyline as it is barely visible either from the sea or from the land side, and can be considered as a case study of a modern plant that fully respects the environment from all points of view.
The Chairman thanked Liquigas Italia for being strong and committed partners; the CEO Mr Capelluto for his wealth of international experience and quality of leadership; and the Project Team, led by Chief Operations Manager Mr Paul Agius Delicata, who was tasked with this ambitious project with tight time frames and complex safety features. Mr Farrugia also thanked all contractors, suppliers and consultants, both foreign and local, who have collaborated with the Project Team.
The Prime Minister unveiled the inaugural plaque, a work of art by Maltese artist Luciano Micallef. The new facility was blessed by Birżebbuġa Parish Priest Reverend Nicholas Pace.
Now that the operations of the old Qajjenza Plant have been all transferred to this new facility in Bengħisa, eliminating risks the Qajjenza plant had due to its age and present location, Gasco Energy will embark on the dismantling of the Qajjenza plant, which is final part of the project.