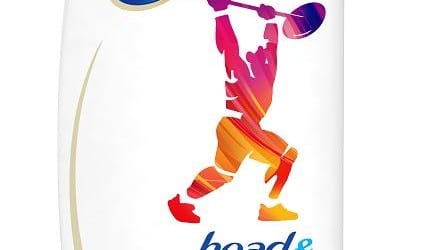 For the London 2012 Olympic Games, Michael Phelps, an Olympic swimming champion and winner of 14 Olympic gold medals is the new Head & Shoulders ambassador and is leading the "up to 100% dandruff-free; 100% confident" campaign for the new Head & Shoulders shampoo variant – Sports Fresh.
Designed specifically for active and athletic men, H&S Sports Fresh shampoo eliminates the hassle and concerns around dandruff and provides the confidence needed in working towards certain achievements. Formulated with a highly effective ZPT, Sports Fresh preserves the natural moisture of the scalp, cleans up to 100% of the dandruff and ensures confidence in leading an active life without worrying about dandruff. The shampoo contains conditioning agents for the hair and the scalp to provide beautiful, clean hair and effective treatment against dandruff. Sports Fresh is designed for daily use, before or after physical exercise.
"We know that worries such as dandruff may adversely impact a person's life and lead to doubts that impair one's self-confidence. It was our understanding of the importance of self-confidence and the way it helps people lead active, doubt-free life that motivated us to launch the "up to 100% dandruff-free; 100% confident" campaign. We wanted to provide inspiration and confidence to athletes and ordinary people alike to play an active role in life, especially during the London 2012 Olympic Games," said Lisa Jennings, global marketing director for Head & Shoulders.
Michael Phelps commented on his new role, "I am excited to join the P&G brand Head & Shoulders, a brand I have learnt to trust, given the time I spend in the swimming pool every week and with my hair and scalp in frequent contact with chlorine and other chemicals. Doubts are the last thing athletes need when they want to focus on competing. Fortunately, with Head & Shoulders' help, I have the necessary confidence to be at my best at the moments that matter the most to me: the swimming pool and my personal life."
The Head & Shoulders Sports Fresh shampoo is being sold across leading pharmacies, perfumeries and supermarkets in Malta. For local trade enquiries, one may call VJ Salomone (Marketing) on 8007 2387.