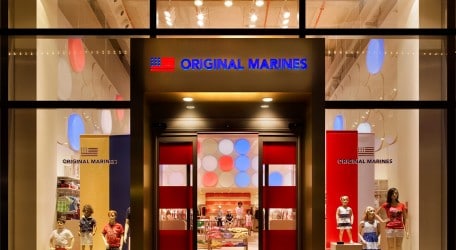 Original Marines  will open their flagship store in Malta, their second opening in a span of a few short weeks, retailing a comprehensive range of top-quality Italian-designed kids' and women's fashion wear, on Level 2 at Bay Street, St Julian's.
The franchise of a family-run business with its headquarters in Naples, Italy, Original Marines started operations in 1983 as a wholesalers supplier and, since they launched their franchise operation in 1993 have opened nearly 700 stores worldwide.
The Bay Street Original Marines store will be spread over 110 m2 and will be launching their brand's spring/summer collection, which will appeal to a wide audience, from new-borns  to  teenagers and young women, with a style that really focuses on being on the crest of the wave with emerging trends and affordable prices.
The new collection includes colourful and original garments, ideal to accompany the days of baby boys, baby girls, boys, girls, teenagers and young women. Original Marines products are designed to provide maximum comfort without sacrificing quality and elegance; simple lines and fine decorations embellish the garments in the new collection, making them ideal to be worn on all occasions.
"We would like to offer top quality at affordable prices for everyone", the franchise holder of Original Marines Malta, Daniele D'Agostino, said. "And soon everyone can visit our store at Bay Street, which is open seven days a week from 10 a.m. to 10 p.m."
The Original Marines mission is to strengthen the relationship of trust built up over the past 30 years, always keeping up the "ethical company" status, where refinement and quality of garments meet the economic needs of families.
Last year Original Marines opened 5 new stores in Italy, where, at the end of the 2013, the brand counts 532 franchise stores and 67 directly. The company is fully committed to expansion overseas and has a dynamic programme of recertification of existing outlets, along with the development of new ones in the existing territories, including Saudi Arabia, Armenia, Lebanon, Morocco and the Czech Republic.
It also opening new stores in strategic markets, among which are France, Slovakia, Turkey, Libya and Ukraine, so that now it has a total of 92 stores, 50 of which are managed by a subsidiary in Lebanon that runs its development programme in the Middle East and Africa.
For more information on the Original Marines product range visit it.originalmarines.com/en/and for the latest on the Bay Street store visit the Bay Street's Facebook page, www.facebook.com/baystreetmalta.