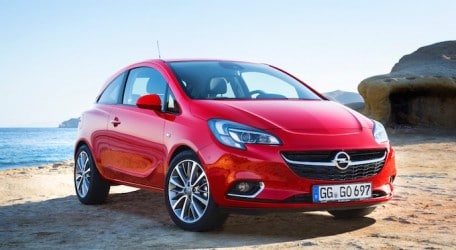 • Opel posts Europe-wide growth of nine per cent in June
• Sales increase of three per cent in first six months of the year
• Registrations up in 20 European countries
Opel remains on a successful course in Europe: according to the preliminary numbers for June, new car registrations increased by more than 9,800 vehicles compared to the same month of last year – an increase of 9 per cent, resulting in new registrations of 118,600. The market share was at 6.35 per cent. Opel's result for the first six months of 2015 is also positive. From January to June, the carmaker sold 582,300 vehicles, an increase of three per cent or around 18,400 units more than in the same period of 2014. This is equivalent to a slightly improved market share of 5.9 per cent.
"The increase in volume in more than 20 markets in the first six months shows that our models appeal to the customers. The new Opel KARL, for which we have already received 30,000 orders, our personal connectivity and service assistant Opel OnStar will create additional impetus for further growth," said Peter Christian Küspert, Vice President Sales & Aftersales Opel Group.
In the first half of 2015 Opel registered an increase in registrations in 20 European markets including Germany (+ 2 percent), the United Kingdom (+4 percent), France (+7 percent), Spain (+18 percent), Italy (+17 percent), Portugal (+21 percent), Poland (+20 percent) and Turkey (+ 36 percent). The brand registered an increase of market shares in more than 13 European markets..
In June, Opel conquered first place on the Hungarian passenger car market with a market share of 11.3 percent. The Rüsselsheim-based carmaker also took second place in the registration statistics in Austria (7.57 percent market share) and the Netherlands (8.1 percent market share.
The Mokka once again led the way for the passenger car portfolio with an increase of more than 20,000 units or 28 percent. Corsa registrations were up by around 18,000 units or twelve percent followed by the ADAM with more 2,500 units or nine percent.
Opel was extremely successful with its LCV portfolio from January to June. Registrations rose by 25 percent to 51,500 units. The market share increased by 0.56 percentage points to 4.03 percent. All three LCV lines recorded an increase in volume with the Movano up 34 percent, the Vivaro 27 percent and the Combo 15 percent.
Opel is represented in Malta by Cars International in Mdina Road, Qormi. To have a first-hand experience of any Opel car and book a test drive send an email to [email protected] or call 2269 2122. You can also visit opel.com.mt or the Facebook page Opel Malta.