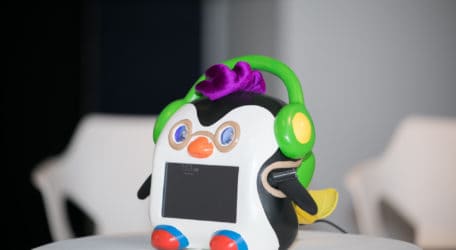 A dissemination event entitled "Technology for Bilingual Children with Developmental Language Disorders (DLD) – Where do we stand?"  was recently held at Esplora Interactive Science Centre, Kalkara. The aim of this event was to disseminate the scientific results obtained from the SPEECHIE project, coordinated and funded by the Malta Council for Science and Technology (MCST) under the Technology Development Programme 2016 and also to gather more feedback on the device itself Olly Speaks, from a widespread spectrum of stakeholders. Distinguished guests from government and academia attended the event. MCST falls under the Honourable Silvio Schembri, Parliamentary Secretary for Parliamentary Secretary for Financial Services, Digital Economy and Innovation.
Developmental Language Disorders (DLD) in children is often attributed to various factors including intellectual disability, autism and hearing loss.
Children with DLD are often faced with social communication, behavioural, educational and vocational difficulties. Although bilingualism does not cause DLD, such disorders can be complicated when children have bilingual or multilingual exposure, which is a common occurrence worldwide. This has particular relevance to the language-learning context of Maltese children. DLD in children can often be addressed by a customised intervention programme drawn up by a professional speech-language pathologist (SLP) on the basis of assessment and regular review of the child's speech and language skills.
However, children often lose engagement when subjected to repetitive therapy activities and lengthy assessment procedures. This impinges on the effectiveness of intervention.

Within this context, the University of Malta and Flying Squirrel Games (FSG) Ltd. have joined forces to develop a novel, multi-modal device, called Olly Speaks, to facilitate language therapy for children with DLD both within and beyond the clinical setting. Olly Speaks will be developed as a smart therapeutic device that entices children to engage with the designated exercises by creating a more rewarding and motivating environment. Furthermore, it enables SLPs to monitor the child's progress and to carry out remote therapy. Due to its unique selling points, Olly Speaks will revolutionize the current practices to carry out speech and language therapy.
The idea behind Olly Speaks is subject to a pending patent application. The research team, led by Dr Ing. Philip Farrugia, who is the originator of this idea, has completed a full working prototype of the device. This prototype will be tested with children and relevant stakeholders, including SLPs and guardians. A risk conformity assessment of the device was carried out abroad by a company which specialises in toy development, with the aim of bringing Olly Speaks closer to market. Dr Ing. Philip Farrugia said "Our long term vision is to develop further Olly Speaks such that it caters for multiple bilingual scenarios, such as English-German and Spanish-English. The research team strongly believes that Olly Speaks has a huge market potential."
The Chairman of the Malta Council for Science and Technology, Dr Jeffrey Pullicino Orlando had words of praise for the consorstium, he said "it is indeed rather exceptional to come across the synergy and dynamics which define the SPEECHIE Consortium. The momentum generated by this level of ambition is pivotal to the mechanism behind the national R & I Programme FUSION, which is administered by the Malta Council for Science and Technology.
The Malta Council for Science and Technology continues to serve as a springboard for local Research and Innovation in Malta, a forum which already boasts a notable critical mass which I firmly believe can continue proliferate."
The Pro Rector for Research at the University of Malta, Prof. Saviour Zammit stated that "Research is one of the three main missions of University life, the others being teaching and involvement in socioeconomic development, and is entrenched in the University of Malta's vision, mission and belief statements. Our recently-published strategic document for the years 2020 to 2025, identifies eight strategic thrusts to strengthen the research pillar at the University of Malta. Funding is of the essence, and the University of Malta acknowledges the various MCST programmes that contribute significantly to the UM's research budget and welcomes the recent peer review conducted by the European Commission's Policy Support Facility further to a request by the Parliamentary Secretariat for Financial Services, Digital Economy and Innovation, which has identified the need to significantly increase national funding for bottom-up research and knowledge transfer in support of industry-academia collaboration."
The device Olly Speaks has already been showcased on various occasions, including Science in the City, Notte Bianca and the 17th International Clinical Phonetics and Linguistics Association Conference (ICPLA), during which the utility of the device received many encouraging comments and positive feedback.
Further details on the project are available at: www.speechieproject.com.
The SPEECHIE project would like to thank their sponsors Tek-Moulds Precision Engineering Ltd; Nestle; Invent 3D; ToyMagic and the Farsons Foundation for their support.