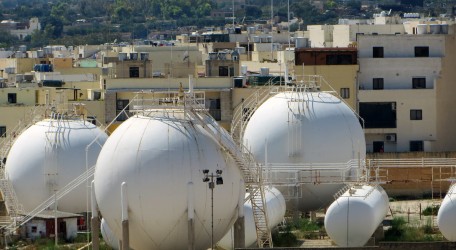 The old Enemalta gas storage and filling plant in Qajjenza, which had been in operation since 1959, has been officially decommissioned following a decontamination process supervised by the Control of Major Accident Hazards (COMAH) competent authority. The next step, which should start once MEPA permit is issued, will be the dismantling and the disposal of the plant infrastructure and equipment.
In 2008, Enemalta and Gasco Energy Ltd, a joint venture between Multigas Limited and Liquigas S.p.A. of Italy, signed a concession agreement whereby Enemalta transferred the management and operation of its LPG (liquefied petroleum gas) activities to Gasco Energy Ltd and Liquigas Malta Ltd.
In fulfillment of the obligations set out in the terms and conditions of that agreement, Gasco Energy built – in a span of two years – a new fully certified LPG bottling and storage facility at Bengħajsa with an investment of €20 million.  The new storage and bottling plant, officially inaugurated last November, fully respects the EU stringent criteria as established in the Seveso II Directives.
Following the commissioning of the new Gasco Energy LPG facility, work started on the decommisioning of the Qajjenza plant, which had stopped operating in July 2012.
Following the results of the air quality analysis carried out on all the Qajjenza storage tanks, showing that there is no trace of combustibles, the COMAH competent authority (CA) certified that the site is gas-free.  The site will continue to be monitored by the CA until all the empty tanks and ancillary equipment are removed.
Birżebbuġa Mayor Joe Farrugia said: "The decommissioning of the Qajjenza plant is good news for Qajjenza residents, for all the people of Birżebbuġa, and for those who visit our locality."
"On behalf of the Birżebbuġa Local Council and the residents, we would like to thank the management of Gasco Energy Ltd, the sister company of Liquigas Malta, who kept us well informed throughout the whole process since they embarked on this project till this very day. Gasco Energy not only removed a constant danger from Qajjenza, due to the old age of the plant and its location, but went on to invest heavily and built a very modern installation, respecting Seveso II regulations, which facility is now located at Bengħajsa far away from residential buildings. For us, as Local Council, we can say that Gasco Energy is a truly exemplary company as their management has consulted with us every step of the way. We could not ask for more," said Birżebbuġa Mayor.
Gasco Energy's Chief Executive Officer Paul Agius Delicata said: "The 54-year old Qajjenza plant had to be closed down as it did not meet the Seveso II requirements.  Through the new €20 million investment at Bengħajsa, Gasco Energy Ltd has more than doubled the LPG storage facilities, becoming one of the key energy assets for Malta. This also means that Gasco Energy is providing Malta with the opportunities to further tap this clean source of energy."
"We are maximizing the efficiency of gas bottling and storage operations through the application of modern technology and efficient work practices, while ensuring that appropriate quality, environmental and health standards are maintained at all times at Bengħajsa. The facility is also equipped with the latest technology for fire detection and fire fighting," said Mr Agius Delicata