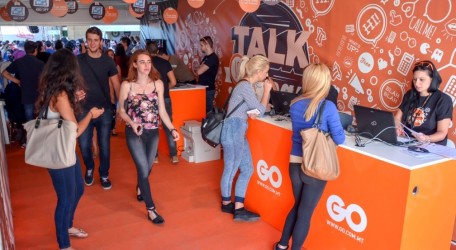 Students entering University, MCAST, Junior College, Higher Secondary and other post secondary schools, can benefit from numerous offers when signing up for GO's Limitless Student Plan. The plan already offers students the opportunity to enjoy limitless calling and texting to their best friends, and the ability to surf the web on their smartphones at an unbeatable rate.
The offers available on GO's Limitless Student Plan include limitless calls and texts to five mobile numbers of their choice on any network, and 500MB of mobile internet for 30 days with just a €5 top up. Students on the GO Limitless Student Plan also enjoy the lowest SMS rate around of 1c per SMS to any local number. Moreover, they only pay 10 cents per MB for any pay per use mobile internet usage.
Along with this plan, GO are currently also including a Max Bundle at €10 for 30 days. This gives students 2GB of mobile internet, 100 minutes of calls to local numbers, and 2,000 SMSs to all GO customers. The bundle adds extra value to the Limitless Student Plan by ensuring that internet and minutes are always available at the best possible rate for those mobile numbers outside the five selected contacts. For a special one-time offer, GO are also offering students the chance to save €2 off the €10 bundle fee during the month of October if registration and activation occurs within the month.
Besides this, Limitless Student Plan customers can also benefit from a €50 discount on Alcatel POP 8 tablets. This device features a borderless, super-thin and extra light frame, 8" touchscreen with a high resolution IPS HD display, WiFi and 3G together with a fast Quadcore processor. It is also GO TV Anywhere compatible, giving students the opportunity to watch live TV on to go.  This offer is available to students from 1 October until 31 December 2014.
Romina Zammit Manager – Mobile Residential Segment at GO said, "The Limitless Student Plan proved popular with students last year so this year we're adding on a few extra benefits to make it even more appealing. At GO we are committed to enhancing our customer experience by creating custom-made plans, in this case a plan specifically designed to fit the student lifestyle."
GO will be present at MCAST and University during Fresher's Week when students will be able to obtain more information on the Limitless Student Plan. Alternatively, further details can be found www.go.com.mt/student, on GO's Facebook page, or by contacting Customer Care on 146 (free from a GO mobile connection), on 79222146 from any other connection. Terms and conditions apply.