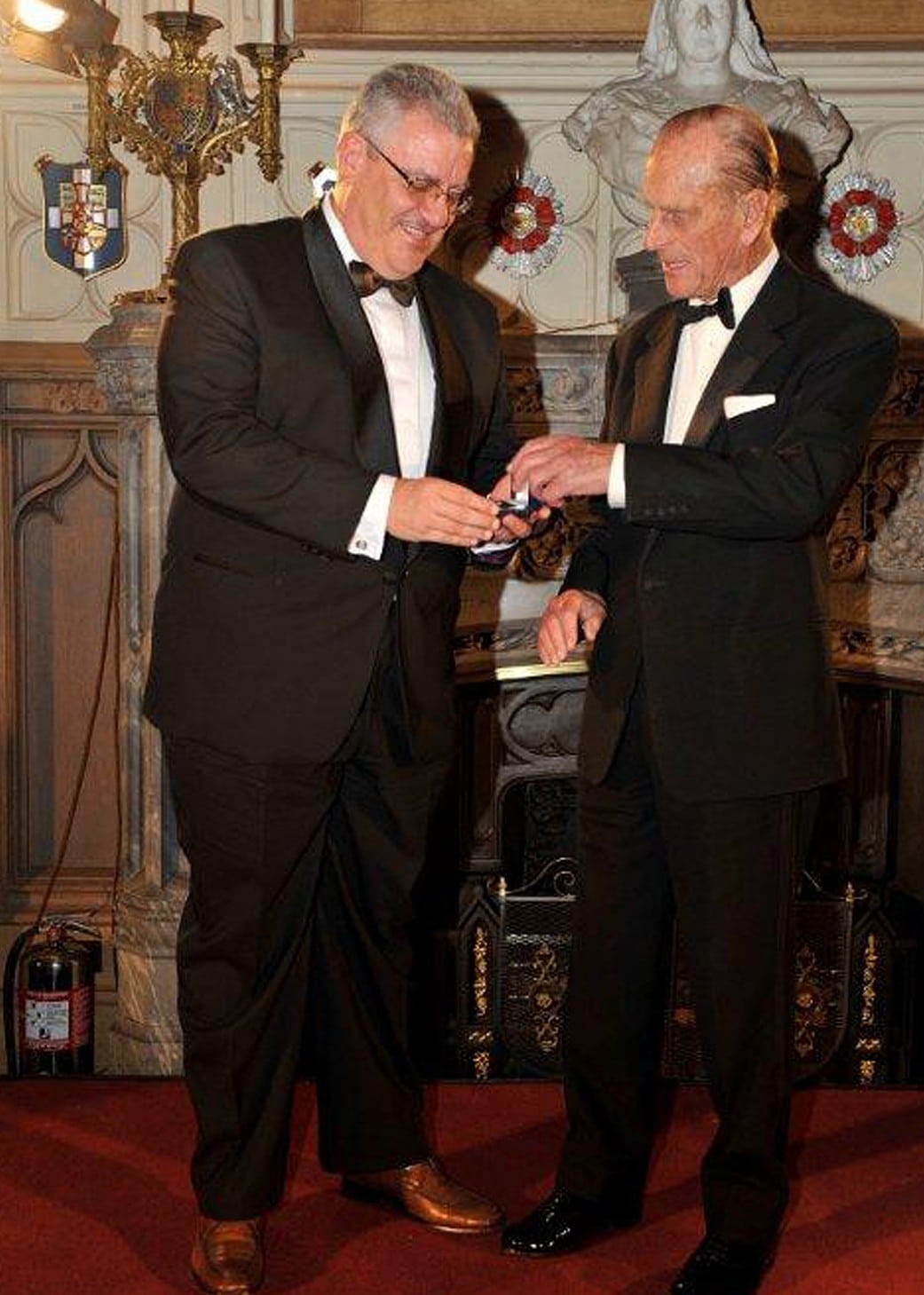 Pictured above: HRH Prince Philip, Duke of Edinburgh, inducting Kenneth de Martino as a World Fellow of the Duke of Edinburgh's International Award last July
Charles Cilia will be handing over the chairmanship of the President's Award – Malta to his deputy, Kenneth de Martino, on 1 January, 2013.
This was announced yesterday during a reception that followed the presentation of the Gold Award to 24 youths by the President of Malta, Dr George Abela, in the presence of HRH Prince Edward, who is in Malta to attend the 11th Duke of Edinburgh's International Award Forum.
Mr Cilia has been involved with the President's Award since its inception over 50 years ago, of which the past 20 years as Chairman. Mr de Martino, who has been Deputy Chairman of the President's Award national committee for the past seven years, has worked with various non-governmental organisations for many years, including as Chief Scout.
Last July he was inducted as a World Fellow of the Duke of Edinburgh's International Award and was presented with his fellowship by HRH Prince Philip at Windsor Castle.
The timing of the announcement coincides with big changes that are being introduced this week during the Forum, with a new brand identity and a new slogan, One Award One Alliance being launched in Malta.
Apart from the new brand identity the Duke of Edinburgh's International Award is introducing a new method of delivering its programmes around the world to make sure that it reaches out to as many youths as possible.
Mr de Martino announced that in Malta the new focus will include the setting up of a permanent office, which is expected to be launched in the first six months of 2013. "This will allow the national committee to give a better service to the various NGOs and schools that participate in the Award," he said.
"We will also be launching the new concept of electronic registration for all participants and we will be keeping in contact with their leaders through electronic media."
With over 60,000 Maltese have obtained the President's Award, whether Gold, Silver or Bronze, in the past half century and, certainly, Mr de Martino believes that the future is bright: "The President's Award has been in Malta for over 50 years and with all the exciting innovations we are going to be introducing in the coming months, I am looking forward to a further 50 years of involvement in the formation of the nation's youths."
For more information on The Duke of Edinburgh's International Award and to find out how you can get involved visit www.intaward.org. For more information about the Award in Malta visit www.presidentsaward.org.mt.