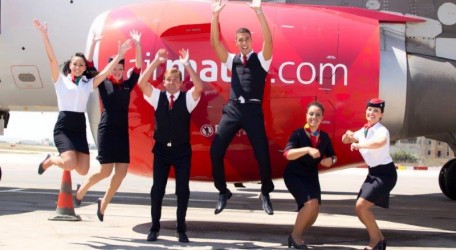 Air Malta passengers travelling from this month will notice new touches to the airline's in-flight service and catering.
Air Malta's catering will feature more variety, as well as Maltese flavours, with new in-flight menus introduced in both Club and Economy cabins. The new menu cycle, designed and prepared in partnership with the airline's caterers Sky Gourmet, feature different meal cycles and introduce new favourites including Beef Bragioli and Chicken Ravioli with Spinach and Cream sauce. Our customers can also taste some Maltese desserts such as honey stick.
Club Class menus were changed at the beginning of August and the improved service will be launched in Economy Class will start on the 15th August.
New uniform accessories are also being launched and have been designed in line with the airline's new brand identity and will compliment the new uniform introduced last year.
The scarves and ties reflect thee design and colours featured in the airline's bold new livery and mirror the uniqueness of thee Maltese Islands with their proud heritage, colours, culture , symbols, hospitality and language.
These changes are part and parcel of the airline's new vision – Flying the
Pride of Malta – and supported by its Mission and positioning in representing 100% Malta.
Malta is a wonderfully rich and compelling destination. The authenticity of
'Malta' is reflected in the airline's new brand identity which carries the
islands' iconnography, its culture,, history aand visual heritage. As a
destination ccarrier, Air Malta has synthesised these elements in its new
identity which is now being reflected across all the airline's products and
services.