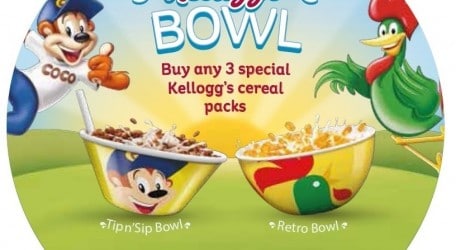 As children head back to school this autumn, parents are being encouraged to introduce healthy breakfast options as a family routine. As a way of helping out parents, Kellogg's, the world's leading producer of cereal, is offering a choice of delightfully coloured cereal bowls with its cereal packs so that youngsters can kick start their school days in a nutritious, tasty and fun way.
To get a hold of one of Kellogg's cereal bowls on offer, one simply has to find three unique codes printed on the inside of any of Kellogg's cereal promotional packs (1 code per pack), log on https://www.tipandsip.kelloggs.co.uk/ enter the codes and send a payment of €2 to cover the shipping cost. The children's cereal bowl will be sent by post at the provided address.
A Kellogg's spokesperson in Malta said: "With back to school season in full swing, Kellogg's is helping out parents ensure that their children start the day in the right way with a quick and nutrient-rich breakfast."
The colourful bowl features a "built in" straw, providing a fun way for children to sip up every last drop of milk. These bowls are available in two different designs and feature Kellogg's family favourites: Coco the Monkey and Cornelius.