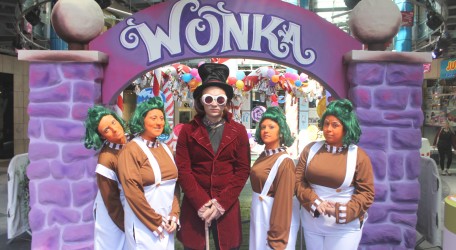 Bay Street Complex in St George's Bay, St Julian's, is welcoming chocolate lovers who want to make the most of the good weather and the Easter holidays, following the opening of the nine-day Nestlé Wonka Choco-Fest, which started on Saturday, 19 April, 2014,  and is being held every day until next Sunday, 27 April, 2014.
The Choco-Fest is open from 12 noon to 6 p.m. daily, where children can meet Charlie and the Chocolate Factory characters. In addition, a free complimentary children's voucher to the National Aquarium will be given out to children when entering the Wonka Chocolate Factory.
During Easter holidays, all shoppers and dinners at Bay Street will be able to enter a Shop & Win Competition with five golden tickets to be won. The prizes include: an electric eco-scooter worth €2,800, Bay Street Hotel weekend breaks, Nestlé Confectionery goodie baskets and children's toys from Juniors Fun & Learn Centre.
On Saturday, 26 April, and Sunday, 27 April, the Choco-Fest will welcome students from the Institute of Tourism Studies, who will be giving information on the history of chocolate; and there will be entertainment and displays featuring Master Chocolatier Andrew Farrugia, who holds the Guinness World Record for the longest chocolate sculpture.
All proceeds from the Choco-Fest will be donated to the Beating Hearts Foundation.
Bay Street is also offering customers one hour free parking in both the indoor and outdoor car parks from 19-27 April.
Philip Galea, Marketing Executive of Bay Street said: "I am convinced that all the visitors to Bay Street will enjoy the Charlie and the Chocolate Factory theme for the chocolate festival this year.
"We want to continue to build on the attraction of a shopping, dining, leisure and entertainment destination that in 2013 attracted over 2.4 million visitors.  We intend to continue to attract the key audience, both local and foreign, who seeks a complete experience within a complex that is open seven days a week from 10 a.m. to 10 p.m."
For more information telephone 2138 0600 or go to the Bay Street Facebook page www.facebook.com/baystreetmalta.