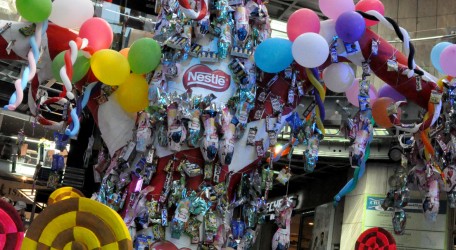 Chocolate lovers were out in force for the opening of a ten-day chocofest at the Bay Street Complex in St George's Bay, St Julian's, which started today (Saturday) and is being held every day until next Sunday 7 April.
Visitors were welcomed in the Rotunda, dominated by Malta's largest chocolate tree, sponsored by Nestlé, where they were offered chocolate-flavoured cocktails, including Milky Bar, Kit-Kat and Aero, and an Aero chocolate drink. There were also lots of chocolate treats on offer, including cookies and Nestlé chocolates. Entertainment was provided by a group of colourful Umpa-Lumpas.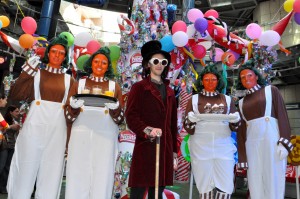 Philip Galea, Marketing Executive of Bay Street, welcomed the visitors to the event: "I am convinced that all the visitors to Bay Street will enjoy the Charlie and the Chocolate Factory theme, a range of stalls with chocolate soap, cake pops, cupcakes, sweets and a chocolate fountain, and a host of entertaining attractions. These include Nestlé chocolate painting, a long chocolate collage by ITS students, body painting and specialist praline chocolate making."
He thanked Nestlé for sponsoring the event and announced that Bay Street has no fewer than ten new outlets opening in the coming months. "We want to continue to build on the attraction of a shopping, leisure and entertainment destination that in 2012 attracted over 2.4 million visitors," he said.
"Already this year Bay Street has increased its footfall by 4% compared to the same time last year and we intend to continue to attract the key audience, both local and foreign, that seek out a complete experience within a complex that is open seven days a week from early morning until late in the evening. In May Bay Street will be supporting the Malta Fashion Week and the entire month will be devoted to fashion, with Bay Street outlets offering special discounts."
The Nestlé Chocofest is open every day from 12 noon to 6 p.m. and is an ideal attraction for all the family. Throughout the event, Bay Street are running a special shop and win competition, giving shoppers a chance to win prizes from five golden tickets. Prizes which are sponsored by Travel Issa, Hamilton Travel, Nestlé, and Juniors fun and learn centre, include Disneyland Paris accommodation, weekend breaks, travel vouchers, Nestlé hampers and children's toys.
On Saturday and Sunday ( 6 and 7 April), Master Chocolatier Andrew Farrugia, who holds  the Guinness World Record for the longest chocolate sculpture, will be creating chocolate centrepieces between 12 noon and 7 p.m., and Richard Pons, Guinness World Record holder for chocolate cocktails, will be serving some of his creations.
Bay Street are offering two hours of free parking between 10 a.m. and 10 p.m. in their outdoor car park to everyone making a purchase at the complex during the Nestlé Chocofest from Saturday, 30 March, 2013, to Sunday, 7 April, 2013, between 10 a.m. and 10 p.m.
For more information telephone 2138 4421 or go to the Bay Street Facebook page www.facebook.com/baystreetmalta.