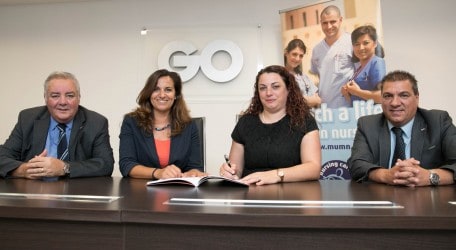 Pictured: George Saliba, Financial Secretary MUMN, Greta Rapinett, GO Business Manager, Maria Cutajar, MUMN President and Colin Galea, General Secretary MUMN
The Malta Union of Midwives and Nurses (MUMN) has selected GO as its communications partner in an agreement which will see the telecommunication operator provide services to the Union and its members.
Established in September 1996, and therefore currently celebrating its 20th anniversary, MUMN supports and looks after the interests of nurses, midwives, social workers, ECG technicians and physiotherapists. Through its members, it also strives to educate the public and works towards reducing the risk of illness as to assist patients to lessen discomfort and suffering and to hasten convalescence.
GO Business Manager, Mrs Greta Rapinett, said, "MUMN, and its members, provide an invaluable service to the Community with nurses, midwives and other health care professionals spending a lot of time on the road visiting patients. With GO as MUMN's communications partner, these professionals will have the best communications network in Malta helping them in their work."
MUMN's President Maria Cutajar in welcoming this partnership said, "MUMN is more than satisfied to have GO as its communications partner and that it also appreciates the professional work being done by MUMN for the Maltese community."