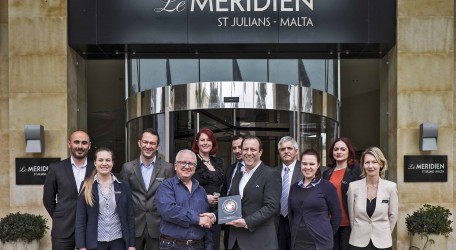 Pictured above: Mr Kevin Casha, President of MIPP (left), surrounded by Le Méridien key associates and passing on the MIPP official plaque to Mr Franco Vella, General Manager of Le Méridien St Julians Hotel & Spa 
The Malta Institute of Professional Photography (MIPP) was officially born during a meeting held on the 2nd of October 1996. This first gathering was the outcome of a group of individuals who had long been discussing ways to improve the standards and the recognition of Maltese Photography.  The MIPP quickly became an authoritative voice for the local professional photographic community and an official Government-recognized body where the legislation and regulations of the local Photographic Industry are concerned.
The Institute has been  run with a view of upgrading the Industry, getting Photographers to help each other, teaching and formulating guidelines on various important photographic issues. The MIPP has gone beyond the shores of Malta by establishing close ties with various international organizations. This has helped the local photographic community to widen its horizons and streamline its operations. Today, the Malta Institute of Professional Photography regularly promotes photography both  locally and abroad, facilitating co-operation with other international associations. The MIPP has come a long way, positively evolving throughout the years, but its main objective remains the furtherance of the local professional photography in all its aspects.
Le Méridien Brand on the photographic scene
Le Méridien Brand counts photography amongst its main passion points, a focus that is further enhanced by its cultural committee LM100. Indeed, LM100 is a group of artistic innovators purposely created to help the Brand inspire its creative guests. This committee enriches guests' experience at Le Méridien hotels around the world through various initiatives that stimulate the senses.  The group comprises an array of visionaries, from painters to photographers, musicians to designers, chefs to architects.
In response to this initiative, Le Méridien St Julians Hotel & Spa founded its own creative committee in 2012, namely LMMalta.  This active group of cultural ambassadors gathers local figures in various artistic and cultural fields.  Several photographers are part of this adventure, where members regularly brainstorm to activate the brand message, set the 5 star hotel apart from competition and promote their art form. Renowned local photographers have joined LMMalta, such as Kurt Arrigo, Rene Rossignaud and most recently Kevin Casha, President of the MIPP.
A legitimate partnership
It is quite natural that Le Méridien St Julians Hotel & Spa became the official meeting venue for the Malta Institute of Professional Photography. After a full year of operations at the 5 star hotel, the MIPP released an official announcement, commemorated by a plaque and formalizing its collaboration with Le Méridien St Julians. "Our cooperation with the hotel during this first year was intense and successful. The MIPP is extremely satisfied with the commitment and assistance provided by the hotel and its staff", explains Kevin Casha, President of the MIPP. "It is with an immense pleasure that our Executive Committee decided to make Le Méridien St Julians the official venue for the various meetings, courses and international conventions that we organize each year."
No doubt that Le Méridien St Julians Hotel & Spa has been indeed setting itself as a reference in terms of the activation of our local culture. The hotel team, with its artistic engagement, actively promotes the creativity of our island both in Malta and overseas through its international clientele.