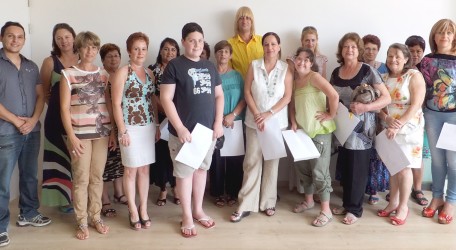 Pictured above: Sebastian Debono, Director of Maypole (first from left) with some of the winners  
No fewer than 55 winners from 11 localities were announced in the Maypole summer campaign for the month of June.
Last Tuesday the winners received their prizes, vouchers of €150 (first), €75 (second) and €50 (third and fourth) to be spent in their local Maypole outlet and, as a fifth place prize, meals for two at Nenu the Artisan Baker in Valletta, during a brief ceremony at the Maypole production facility in Tal-Ħandaq.
Sebastian Debono, Director of Maypole, who is responsible for the retail business, urged those taking part to look out for the products marked Ixtri u pparteċipa mal-Maypole dan is-Sajf (buy and take part with Maypole this summer).
Clients buying any Maypole product, including tarts from the freezers, ice-creams and ready cooked food, a range of beverages, wines, beers, water and olive oil from local manufacturers and importers, will receive two coupons; and those buying another range of snacks, beverages, ice-creams and salad creams from a range of local manufacturers and importers, will receive one coupon.
Some winners, Mr Debono pointed out, had amassed over a hundred coupons in a month buying products in the campaign. Over 5,000 entries had been received for the first draw for June.
Glen Warren, Marketing Manager of Maypole, thanked the winners for shopping at Maypole and distributed the coupons, which have to be used at one go. The winners were then treated to a selection of food prepared by the Maypole Outdoor Catering Division.
All the winners said they had been advised by the shop assistants in the outlets to take part in the campaign. Asked why they shop at Maypole, many mentioned the convenience of having an outlet close to home. Others mentioned the fresh bread throughout the day for which Maypole is renowned, the extended opening hours of many outlets, the cleanliness of the outlets, friendly staff and the range of products available.
The 11 Maypole outlets taking part in the summer campaign are in Attard, Bugibba, Fgura, Hamrun, Iklin, Mellieha – the newest outlet – Qormi, San Gwann, Swatar, Zabbar and Zurrieq. There will be two further draws with another 55 winners each at the end of this month and next, with all participants eligible for the final draw when five prizes worth up to €500 each will be won.