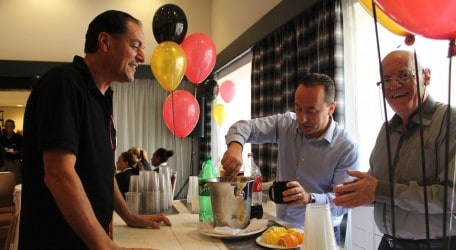 The management, and staff at The Palace and The Victoria Hotel in Sliema celebrated the hotel's 10th and 20th anniversary with a bit of a twist. During break times, the management team hosted and served their staff a lavish buffet lunch prepared by the talented Hotel Chefs. Undoubtedly this was a small gesture of appreciation by the management for all the hard work and commitment performed by all the staff members working at the hotels.
This event was attended by the Chairman of AX Holdings, Mr Angelo Xuereb, the Director of Hospitality at AX Hotels, Ms Claire Zammit Xuereb and CEO of AX Holdings, Mr Michael Warrington. During this lunch break, they had the opportunity to thank the staff members for their enthusiasm and dedication at work which is contributing to the success of both hotels in Sliema.
Mr Kevin Callus, General Manager at AX Hotels Sliema said that he is honoured to head a staff of reliable members that for the past years have contributed for the increasing popularity of the hotels. He is convinced and optimistic that their excellent service will continue in the future to maintain a quality experience for everyone.