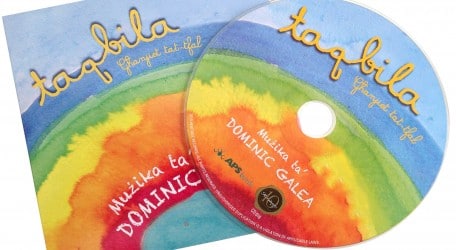 A CD of Maltese poems and nursery rhymes, set to music by prolific composer Mro Dominic Galea, and a supporting website were recently launched at Attard Primary School.
The CD, with the title 'Taqbila', contains 17 rhymes which older people would have learnt in their childhood, including: Il-Bewsa tan-Nanna, Warda and Wenzu l-Iskarpan.
According to APS Bank's Chairman, Mr. E.P. Delia, which is supporting these two projects as part of its contribution to the local community: "The aim of the compilation is to introduce these poems and nursery rhymes to a whole new generation".
"We also wish to support the 'Come to Me' children's charity, run by Mgr Victor Zammit McKeon on behalf of the Archdiocese of Malta, since the proceeds from the sale of the CD, which costs only €2.50, will go directly to this organisation."
To further enhance the experience, a Maltese language website, www.qawsalla.com, was also launched. This contains the music scores and lyrics of the songs on the CD, as well as other educational and entertainment content for children. This includes a virtual online art exhibition space, study worksheets for children from year 1 to year 6 of Primary Schools and other interesting attractions.
During today's launch, the Mirabitur Youth Choir under the direction of Ms Simone Attard, sang two songs from the CD.  The invitees for this presentation were the APS Bank Chairman Mr E.P. Delia, Directors General from the Education Department, College Principals and Church School Heads.  A presentation on the website was given by Mr. Patrick Aquilina, APS Bank's Marketing Manager.
APS Bank will be promoting this CD with various institutions such as Schools, NGOs and Local Councils in order to disseminate these poems and in the meantime collect funds for 'Come to Me'.
Any interested persons who would like to purchase this CD can do so from APS Bank by sending an email on [email protected] or by accessing www.qawsalla.com.