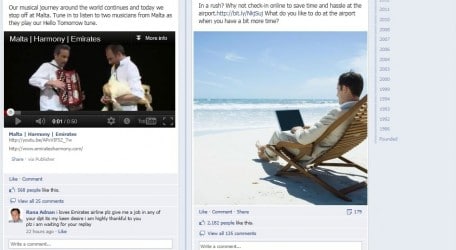 Pictured:  Ruben Zahra playing the bagpipe, known as iż-Żaqq, accompanied by accordion player Andrew Micallef on Emirates Facebook channel. The video placed online last weekend got more than 500 likes in just two days
Maltese composer and musician Ruben Zahra and accordionist Andrew Micallef are among the first participants in the world to interact with a musical composition, harmony, specially commissioned by Emirates. The video placed online last weekend got more than 500 likes in just two days. The airline, which recently launched its new global brand platform Hello Tomorrow, is aiming to strike a chord with music fans around its network by asking them to help create the ultimate musical mash up.
Emirates' Harmony campaign invites participants to interact with recordings by professional musicians playing traditional instruments from around the world, such as the Celtic harp, Taiko drum, Shekere, Oudht, Indian Flute and the Maltese bagpipe known as iż-Żaqq.
The music in the Maltese video portrays Ruben Zahra playing the bagpipe, known as iż–Żaqq, and accompanied by the accordion played by Andrew Micallef.   Iż–Żaqq is a Maltese folk instrument crafted from Maltese cane and fitted with a bull's horn that constitutes the bell of the instrument. The bag is made from goat or calf skin. The Żaqq is considered as one of the most primitive bagpipes in the Mediterranean and was used to provide music entertainment to peasant communities inMalta during festive occasions such as Christmas, Carnival and even weddings.
Visitors to the Harmony Campaign can browse the various instrumental arrangements and mash them up to create different versions of the score. The overall arrangement of the composition has been designed to ensure that all possible instrumental combinations sound perfect together.
Harmony fans can also add their own talents to the mix by recording themselves performing the score on a webcam or microphone and uploading the video or audio files to the Harmony Gallery. Submissions which impress the Emirates judges will be uploaded on to the airline's dedicated YouTube channel.
"Emirates connects over 120 destinations around the world, each with its own distinct cultural traditions that are constantly being reshaped and re-interpreted as new ideas and influences come into play. As the bridge between these destinations, Emirates is perfectly placed to bring ideas together; and the goal of our Harmony campaign is to achieve this through music," said Sir Maurice Flanagan, Executive Vice Chairman – Emirates Airline & Group.
"Emirates is a passionate supporter of music and proud partner of the Sydney,Melbourneand San Francisco Symphony Orchestras, while our inflight entertainment system offers more than 700 channels of musical genres, including classics and new releases from around the world," continued Mr Flanagan.
"Now, we're taking our passion one step further by inviting music fans to help us create a unique musical journey that will showcase the many and varied destinations we serve. It doesn't matter whether you are a professional musician, a keen amateur or just fancy the opportunity to show what you can do with a couple of saucepans and a wooden spoon, we want you to get involved."
Once video or audio files have been uploaded to the Harmony microsite, the sender will receive an email containing a link to the video in the Harmony Gallery. From the Gallery, links to the videos can be easily shared via Facebook, Twitter and email. 
Emirates' Hello Tomorrow brand platform launched on 2nd April 2012 and features print, TV, digital advertising, including iconic billboards inNew York's Times Square andMilan's central train station.
Emirates is promoting the Maltese  'Harmony' video on its dedicated Facebook and YouTube channels. To see Ruben Zahra and Andrew Micallef video clip go to: http://www.facebook.com/Emirates and http://www.youtube.com/watch?v=APxVIF5Z_Tw&feature=youtu.be
To get involved in the Harmony campaign, visit www.emiratesharmony.com