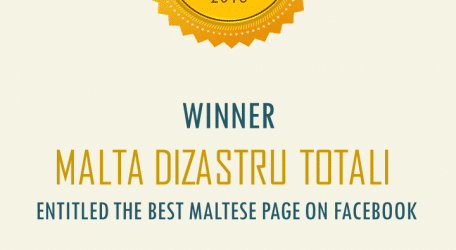 Today was the final day of the 4th edition of The Malta Page Awards 2013. The Malta Page Awards is a series of awards given out to locally-created Facebook Pages that receive the most likes by the general public. This year awards held between 31st July and 17th August, 2013.
The first five days of these Awards were dedicated to the nomination process. In all took part in these Awards 177 Maltese Facebook Pages, for which 32,582 people voted. This year for the second consecutive year the current affairs page 'Malta Dizastru TOTALI!!!!!!!' won the edition with more than 8,900 likes. Last year 'Malta Dizastru TOTALI!!!!!!!' won the edition with more than 4,800 votes.
The patriotic Maltese language page 'Kelma Kelma' by Dr. Michael Spagnol closely followed in the second place, with more than 5,300 likes, and fast-food page 'Malta Burgers' came in third with more than 4,200 likes. Other top pages include One News (4th place), artistic page 'Sue Flask – Artist and Portrait Art' (5th place), Gozo Weather Page (6th place), the Manchester United fan page 'One Love One United' (7th place), the MaltaWeatherSite.com Facebook page (8th place), the Rabat patriotic page for RabatMalta.com (9th place), and current sport affairs page 'I Quote Football' (10th place).
This edition pages were awarded a certification of participation. The winner of these Awards won a promotion on one of the national television stations and an interview with two leading new portals in Malta.