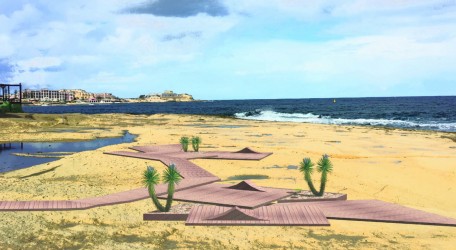 Modular, eco-friendly and aesthetically pleasing wooden structures could be placed on rocky beaches in summer to make them more accessible. This initiative, led by the Malta Furniture Manufacturers Organisation (MFMO) and designed by DAAA Haus of San Gwann, is currently being considered by local authorities.
Wooden Beach is a project financed by Malta Enterprise that consists of platforms, enhanced by planters, linked by walkways – all in an engineered wood composite that blends well with the surroundings and does not harm the natural landscape of our limestone shorelines.
According to DAAA Haus Design Director Keith Pillow, reaction to Wooden Beach has been highly positive. "This is a modular, light, flexible and environment-friendly way to make rocky beaches accessible," he said. "These temporary structures are designed so they do not need to be fixed to the rocks. They are easy to assemble and can be removed at the end of the summer and stored for reuse the following year."
The MFMO will be producing platforms of around 30 m2, which are highly cost-effective to manufacture and install on public beaches. A prototype could be installed within four weeks of commissioning.
Similar structures are already in use abroad and, with the proper use of material, could last for years.