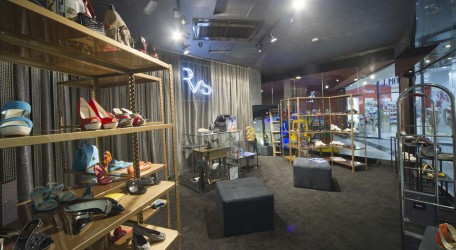 Shoes and bags of top quality for men and women by leading Italian brands Baldinini, Fabi and Loriblu are available in Malta for the first time at Rendezvoushoes, the new outlet that is now open on Level 2 of Bay Street in St George's Bay, St Julian's.
This is no run-of-the-mill outlet for it has a designer look and feel. The latest summer collection is beautifully displayed in an uncluttered manner, with an eye for detail. The proprietor, Russian-born Marianna Dzhangirova, is an economics graduate with banking experience who has settled in Malta to bring up her three children.
"My experience of shopping in Malta, when I first arrived here a year ago, was that there is an ample selection of good quality clothing," Ms Dzhangirova said, "but I could not find the same high quality shoes to match the outfits. So I visited the factories of a number of manufacturers and selected three, which you can see displayed here.
"We have been open for only a few weeks but the word is slowly getting around. We have had clients who came in and then brought their relatives. They are all impressed with the good quality offered, as well as the very latest collection, which you would not necessarily find in other local retailers."
Baldinini have been in the shoe business for over a century, with Gimmi Baldinini representing the third generation running the family business based in Rimini with more than 250 skilled workers and designers.
These are the shoes that have been chosen by royalty, including the late Princess Diana, and heads of government, including Vladimir Putin of Russia. Baldinini has around 100 outlets, including in Via Montenapoleone in Milan and on Via del Babuino in Rome.
The Fabi family have been producing shoes in the Marche region on Italy's Adriatic coast for almost half a century. The two brothers Elisio and Enrico set up the company in 1963 together with their wives and now the second generation are active in the business.
A testament of the 'Made in Italy' brand, Fabi displays style and elegance while ensuring it anticipates trends and ways of being. The workforce of around 350 master craftsmen and artisans now operate from a state-of-the-art facility covering 15,000 m2.
Graziano Cuccù started Loriblu in the basement of his house in the Seventies. His first major success, the Mignon, sold over 110,000 pairs. The company has grown exponentially over three decades and in 2010 opened its latest facility over 15,000 m2 in the Marche region.
The hand-made traditional form of manufacture continued into the design of high class, stylish and elegant shoes – all manufactured in-house using the latest technologies. Top quality materials and even semi-precious stones go into each model, making it unique. There is a selection of footwear for men, women and bridal wear.
Rendezvoushoes is open from 10 a.m. to 10 p.m. from Monday to Sunday. For more information telephone 2733 7755 or go to the Bay Street Facebook page www.facebook.com/baystreetmalta.