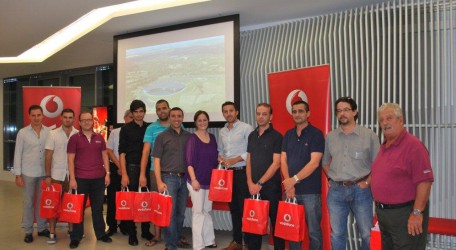 As part of its Summer smartphone and tablet sale, Vodafone Malta has given its customers and employees the opportunity to visit the McLaren Technology Centre in Surrey, UK.
In conjunction, with the smartphone and tablet sale, Vodafone, through a competition, granted 7 free passes to an experience of a lifetime. The winners left Malta on October 8 for an all-inclusive trip that included a guided tour of the McLaren Technology Centre,  home to McLaren Group and Vodafone McLaren Mercedes Formula 1 team.   The Centre is world-renowned for its innovation in design and modern architecture. As the name suggests, the building represents a high-technology environment, which is exclusive to the McLaren Group of companies, corporate partners and invited guests.
The winners will be hosted as VIPs and will take an extensive look around the Formula 1 facility, visit the historical collection of the cars and trophies and given an overview of the building and McLaren Group of companies. The winners will also come back with a memorable group photo with the Vodafone McLaren Mercedes F1 car.
"Most of the winners and Vodafone employees are eager F1 followers, so they are ecstatic about winning this trip to such an iconic F1 landmark," said Maria Vella Galea, Brand Manager at Vodafone Malta. "We always try to give our clients something back for their loyalty and our employees for their vital work. That was the whole idea behind this trip. As for those who don't support McLaren during the season, we hope that this visit will convert them over to the McLaren team," she continued with a smile.
The state-of-the-art centre brings together all the Group's activities in a building that spand 57,000 square metres, an area large enough to hold nine Boeing 747 jumbo jets. McLaren Racing is the company behind Vodafone McLaren Mercedes and comprises a multitude of administrative and engineering departments, ranging from vehicle design and aerodynamics to materials science.